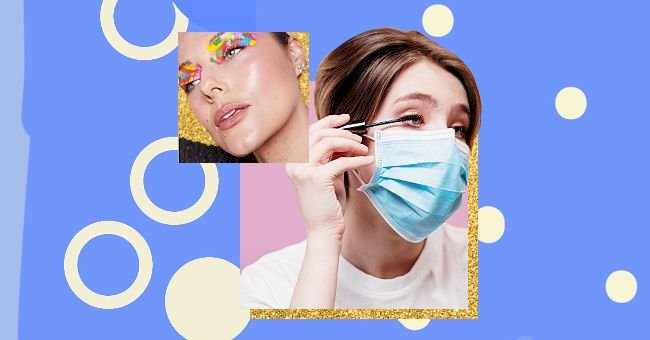 5 Easy Yet Striking Eye Makeup Looks To Try When You're Wearing a Mask
It's all in the eyes, Chico, especially since our faces are now always covered with masks. Eye makeup is more important than ever with the face mask regulations that will probably last a while.
We've all experienced the unfortunate instance where our full faces of makeup get transferred onto a mask. What makes it worse is that half the time, nobody even got to see your beautiful artistry.
Face shields have amplified the importance of striking eye makeup looks because the other half is covered. See the five easy makeup looks that will make people turn heads when you're in a mask.
The Bold Brow
Eyebrow trends never cease to amaze us ever since we got introduced to feather brows. From then on, we knew that anything was possible with the little stips of hair above our eyelids, which is fantastic.
Makeup artist William Scott adds extra fun and a bold twist to his already bold brows. Scott adds a fun pigmented mascara to the arch of his brows to achieve this eye-catching look that we'd love to try out.
Sky Gradient Lids
Get inspired by nature and paint your lids the sky's colors at different times of the day. Toronto-based artist Khera Alexander looks to the sunset at dusk for the teal, purple and orange eye look above.
Khera reveals that she got the look by sweeping teal eyeshadow on her lids, followed by the orange and purple. The final touch just needs an eyebrow gel to brush shaped brows into place before masking up.
Go Crazy With Prints
This fun mismatched gingham print eye makeup look by Sarah Durini looks stunning! It also looks much more complicated to replicate than it actually is because the secret is in the shadow and tools you use.
Make sure that you use cream-based shadows to paint on the prints free hand on your lids. A flat eyeliner or small concealer brush will also work best for precision for this cute print piece.
Three Is Better Than One
Makeup artist Alana Wright goes bold with not one, not two, but three wings on her eyelid when wearing a mask. Wright explains that she wears a black wing close to the lashes for definition, then pink, then purple.
The triple threat eye look is both simple and unique. We would love to give it a go for a Zoom holiday party to stand out from the other little blocks on our friend's laptop screens.
Color Burst
We may have missed out on confetti celebrations this New Year, but that doesn't exempt us from having fun. The best part about this look is that there is no real method to it; just have fun with creme colors.
Makeup artist Katie Hughes explains how she came up with this look by mistake and ended up loving it. We are huge fans of it too, and can't wait to make January birthday parties more lively with this look.