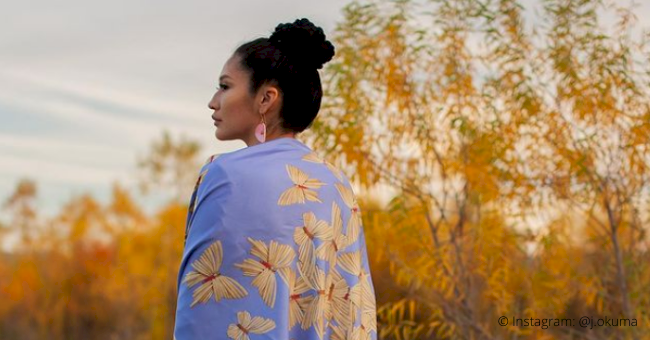 5 Indigenous Women In Fashion Worth Noticing
The fashion industry is not an easy one to conquer. However, with the bravery of their ancestors flowing through their veins, a group of young and inspired Indigenous designers and models are rising to fame.
Over the years, it has become increasingly clear that appropriation is often brushed off as merely taking inspiration from cultures especially in the fashion industry. The indigenous community has seen their sacred prints, handmade leatherwork, and beaded designs ripped off and imitated by fashion houses for centuries.
Their need for representation in the industry has long been building. Now a new generation of fashionable warriors are rising to the challenge and carving their own path in fashion. Here are five Indigenous fashionistas worth noticing.
1. Bethany Yellowtail
California-based Bethany Yellowtail hails from the Crow and Northern Cheyenne tribe. She graduated from the Fashion Institute of Design and Merchandising - FIDM and launched her own brand in 2015.
Currently, Bethany is the CEO and designer of her own brand. Aside from bringing native inspired style to the masses, Bethany and her team also run the initiative #byellowtailcollective that aims to "support the entrepreneurial spirit of Native American, First Nations, and Indigenous creators."
2. Denali White Elk
Newcomer to the fashion world is Denali White Elk. Though young, the stunning model dropped jaws with her first job as a model on the cover of Vogue Italia. Hailing from Oglala Lakota, White Elk was discovered by IMG Models.
"It was a dream come true, to be honest. [Looking back], I feel like I should have been even more excited, because it's such a monumental thing to have accomplished. I didn't know what to expect, but I enjoyed it, because everything [about the cover project] was based with a purpose."

explains White Elk about the Vogue Italia cover.
3. Keri Ataumbi
A gem from the Kiowa tribe is artist Keri Ataumbi. While she is known for her paintings and sculptures, Keri is most praised for the jewelry she creates.
She sells her pieces through her label Ataumbi Metals. Her workmanship is so great that it has even been featured in exhibits in museums like the Heard Museum.
4. Jamie Okuma
Luiseno, Shoshone-Bannock, Wailaki, and Okinawan, Jamie Okuma is an enrolled member of the La Jolla band of Indians in Southern California. The stunning designer specializes in one-of-a-kind pieces.
All her pieces are hand crafted by herself. She also designs and sells ready to wear outfits that draw direct inspiration from her native roots.
5. Curtis Oland
Curtis Oland of the Líl'wat Nation Tribe launched a menswear brand. The Canadian designer draws inspiration from natural elements and aims to create a brand that embodies the indigenous culture of being environmentally friendly.
"My aim is to evoke more thought about where our things come from. There is so much spiritual energy that is imbued within a garment. There's energy from the deer that gave its hide, from the worms that created the silk, from the sheep that gave its wool, and from all the human hands that these materials pass through to get to me,"

explained Oland to Vogue.