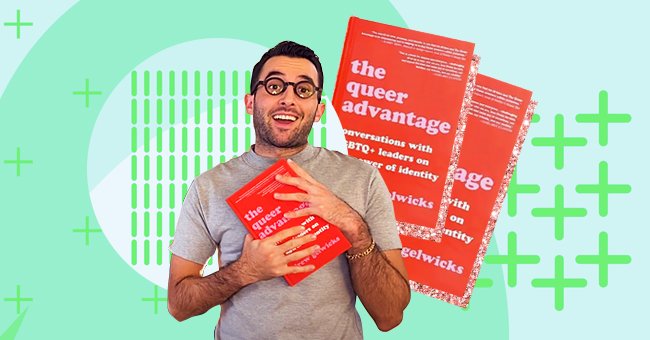 5 Reasons To Add 'The Queer Advantage' To Your Reading List
Time Magazine mentioned "The Queer Advantage" as one of the most anticipated books of fall 2020. Add it to your must-reads.
One cannot overstate the cultural significance of conversations that Andrew Gelwicks has in the highly anticipated "The Queer Advantage."
In this book, stylist and author Gelwicks seeks to have conversations about queerness that are not necessarily centered around the hardships and challenges, but also the incredible things that being queer brings.
Andrew Gelwicks' Life-Changing Revelation
Raised in Ohio and having attended college in Indiana, Gelwicks grew up conditioned to believe being gay was a liability. However, following his move to New York City in his twenties, he had a revelation. He realized that being gay wasn't a liability; instead, it was the asset that would propel him to reach new heights professionally and personally.
Since working for Teen Vogue and GQ, the twenty-six-year-old fashion stylist and author began his venture and gained acclaim as a stylist to the stars. Additionally, Gelwicks had been working on his book, "The Queer Advantage," inspired by his revelation.
The 'Queer Advantage' features interviews from Billie Jean King, Troye Sivan, and Margaret Cho
"The Queer Advantage" includes interviews with more than fifty influential figures from the LGBTQ+ community. Some of the leading names creating national public policy, running billion-dollar tech enterprises and winning Olympic medals credit their success to their queer identity. The various interviews unpack the idea that being queer can positively impact their lives and careers.
"So much of the narrative around queerness is about the hardships and struggles, and while those are extremely important, valid conversations that need to be had, there's so much more to being queer."

He shares in a conversation with Aaron Phillip.
The Importance Of "The Queer Advantage"
Gelwicks adds that he wanted to find out whether or not the world's most successful people agreed with him. A rather ambitious venture for a first-time author and in a talk with Bazaar, he recalls how intimidating it was to approach all these big names. However, as intimidating as it was, the significance of the conversation outweighed the fear.
In his conversation with Bazaar, the author talks about the diversity within the fashion industry. He also adds that dissimilarly, this is not the case in the other fields, namely "in tech and politics and sports and all these other arenas."
Gelwicks' Queer Advantage
"Regarding my work ethic, growing up, I felt so less than and so unwanted by peers that I forced myself to show people that I am of value, I do have something to offer."

Gelwicks shares.
Gelwicks being a person whose career expects of him to be in continued social interactions with the clients he styles, has found himself somewhat equipped for the task. He reveals that connecting with people and making them feel comfortable has been a survival tool of his throughout.
The Motivation Behind The Book
"It started out as me questioning myself, because for the majority of my life, I always considered being queer to be one of the biggest obstacles in my life."

Gelwicks says in an interview with Aaron Philips for W
Gelwicks later realized that his queerness was in actual fact not as barrier to having a successful career and a happy life, but if he did achieve thiese things in life, it would be in spite of being gay.