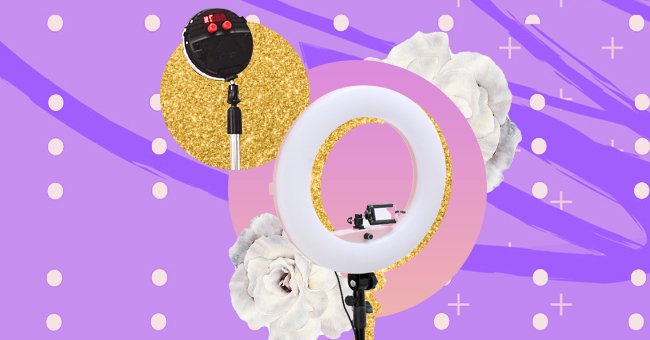 5 Ring Lights That Promise To Add A Professional Touch To Zoom Meetings
Lighting is everything. And with zoom meetings being an addition to the workday, ensure that your picture and video quality are up to standard.
You've got your favorite spot for taking your Zoom meeting that's quiet enough and doesn't feature a distracting background, but the light is lacking a bit and it's messing with the quality of your video. There's a simple solution to this problem: a ring light!
Once associated primarily with YouTubers, Instagrammers, and TikTokers, the ring light is proving to be a nifty tool for the new reality that we're all adapting to. For many who are now working from home, video conferencing is the new norm. Here are five great ring lights that'll make your zoom meetings look a bit more professional.
12" Bi-Color Tabletop or Handheld Vlogging Kit
For an option that's more compact and lightweight than a floor-standing setup but larger than a clip on selfie light resulting in more light for darker spaces, here's your champ.
This is the ideal tabletop light made specially for squeezing brightness into small spaces, including that home office setup you've got squeezed into the corner over there.
Rotolight Video Conferencing Kit
Designed with your specific videoconferencing needs in mind, the Rotolight Video Conferencing ring light will ensure that you look professional in all of your Zoom meetings.
If you primarily want a ring light for your meetings then you aren't looking for all the bells and whistles that come with other lights that are suited for photography or vlogging. It comes with a compact desk stand which helps you quickly and easily integrate this thing into your video conferencing setup and the light is adjustable.
Whellen Selfie Ring Light
Not yet ready to go the full nine yards just yet. No problem-o. You can clip on and off this smaller ring right to your iPad, laptop or phone whenever you need additional light.
Moreover, it's made convenient by its size. You could even want to carry this pocket-size light around and get perfect lighting when you're out with your friends or any time you're on the go.
Neewer Ring Light Kit
If you've been on the market for an all-round bomb ring light that you can use for video conferencing but also vlogging and all your other lighting needs. This ring light is everything you're looking for and then some.
Furthermore, this is the number one seller on Amazon for "Macro & Ringlight Flashes." It's ideal to light very dark and larger spaces. It also comes with a holder for your phone, and white and orange color filters if you'd like to tweak your color temperature.
QI-EU 10.2-Inch Ring Light
This ring comes with a lightweight yet strong iron foldable desktop tripod. It's got a super cool feature that you can use to rotate the phone holder a full three hundred and sixty degrees to catch the light at just the right angle.
And just like that, you are on your way to professional looking video conferences and your other video and pictoral needs.