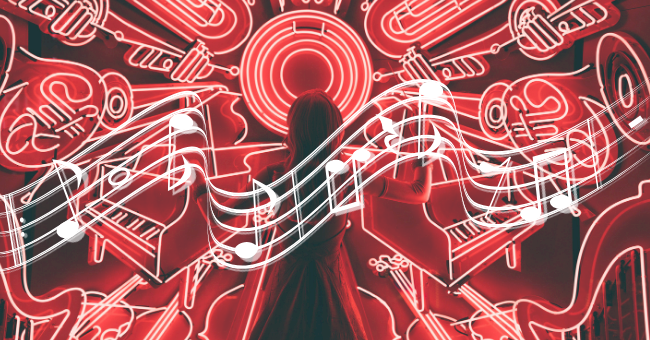 5 Sad Love Song Lyrics To Explain Your Complicated Feelings
Falling in love comes easy, but what we're not prepared for is falling out of it. And while we may feel like we're at a loss for words to explain how we feel, seeking refuge in song lyrics can come as a tranquil respite.
Music is food for the soul. I can't think of a feeling that doesn't have song lyrics to back it up, and sometimes, I just end up listening to a magical tune and the words are so deeply intuitive that I can't help reciprocating the effect.
While some people reach out to their favorite song when they're happy, others tend to confide in music for healing their soul. And while upbeat songs have their own thrill, there's something about a sad tune that hits home. Here are the five sad love song lyrics that get exactly how you feel.
1.When You Feel Hurt
"Now the day bleeds into nightfall. And you're not here to get me through it all. I let my guard down, and then you pulled the rug. I was getting kinda used to being someone you loved"

- Lewis Capaldi, "Someone You Loved"
2.The Struggle
"And I just wanna tell you, it takes everything in me not to call you. And I wish I could run to you, and I hope you know that every time I don't - I almost do."

-Taylor Swift, "I Almost Do"
3.Heartbreak
"How come the only way to know how high you get me is to see how far I fall. God only knows how much I'd love you if you let me, but I can't break through at all."

-John Mayer, "Heartbreak Warfare"
4.Wanting Them To Stay
"Why am I so emotional? This is not a good look, gain some self-control. And deep down I know this never works , but you can lay with me so it doesn't hurt. So won't you stay with me? 'Cause you're all I need."

-Sam Smith, "Stay With Me"
5.Almost Saying Goodbye
"Anywhere, I would've followed you. Say something, I'm giving up on you. And I will swallow my pride. You're the one that I love, and I'm saying goodbye."

-A Great Big World feat Christina Aguilera, "Say Something I'm Giving Up On You"