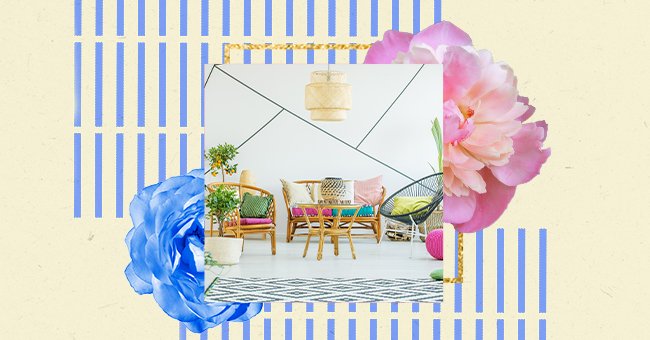 5 Simple Ways To Add Color To Your Home
A little color in your life doesn't hurt. Especially as the snow melts the gloom away and the first blooms of spring sprouts from the trees and bushes. What better way to celebrate the color of the upcoming season than adding some color to your space.
We've been inside a while, and you might notice your home is due for an upgrade. Seriously, it's time to let go of some things. Just as spring indicates new beginnings, color to your home will bring a new mood and tone.
Whatever your choices may be, remember that specific colors will bring varying energies to your home—these range from bursts of fiery and energetic charm to a calm and relaxing presence. If you are looking to do a project out of it, scroll below for five simple ways to add some color to your home.
Paint The Front Door
Think of your front door as the door that leads to Narnia. From the entrance, your guests will be able to tell what's on the other side. It's the easiest way to clue people in about your style choices. Besides, it shows others that your home is well maintained.
Go for bright, whimsical colors like pink to show your playful side. On the other hand, try out dark colors like black or navy blue to give off an air of sophistication. The choice is yours, just remember to have fun with it.
Paint Your Ceiling
Who said that ceilings have to be stark white. A ceiling that adds a splash of color creates a very inviting atmosphere. However, if you are worried that a painted ceiling will make your room appear smaller, it's time to toss that myth away.
Decide on the room you would like the ceiling painted and go for it. That's it. Nice and simple. If the thought of a perpetually colored ceiling makes you break out in hives, you can opt for safer colors like pale blues or grays.
Color Kitchen Cabinets
Give your kitchen an inexpensive facelift with a paint job set to leave your kitchen looking stylish. We often see loads of kitchen cabinets in either white, dark, or wood. However, by changing your cabinets by painting them a color of your choice, you might surprise yourself with the outcome.
Coloring your kitchen cabinets is a fantastic way for color-shy people to add some color to their house. Go bold or subdued depending on your taste. For the daring, you can paint both the outside and inside too. Push the limit and do them in contrasting colors too.
Hang Artwork
Another simple way to add color to your house is to hang up some art pieces around your home. They add texture and dimension to the room while giving a pop of color. Furthermore, it's an elegant way to showcase your tastes.
Acquire pieces off of sites like art.com. It's pretty extensive, so you can search for something that suits your aesthetic. However, you don't have to acquire fine art. You can do some D.I.Y and color a few paintings yourself, put up posters, or even photographs.
Paint Or Recover Your Furniture
A fantastic way to add color to your home is to recover or paint over your furniture. Instead of tossing something out, repurpose it by enhancing it with a pop of color. Moreover, you can change out the slipcover on an old sofa. It's a fun project as well as an environmentally-friendly way to spice up your home.