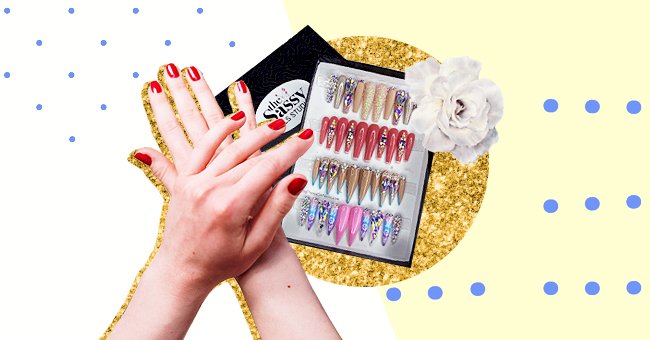 5 Small Businesses Selling Stunning Press On Nails & Stickers
It's time to stay at home for our safety again, which results in canceled nail appointments. Thankfully, we've learned the value of DIY over the past few months and are ready to give it a go with press-on nail kits.
Unfortunately, we have to say goodbye to our professional hair, nail, and skin appointments again this year. The pandemic is not slowing down without our efforts, so it's best to stay at home at this time.
The first lockdown came as a shock, but now we are prepared for the outcome of being quarantined. Say no to crusty nails these next few months as we've found the best small businesses who sell press on nails and stickers.
Nailed By Ren
Renee Broadnax is a Toront0 based entrepreneur who makes dramatic press on nail designs. Her instant manicures use materials such as foil and gems, and her sets are available in different lengths and shapes.
Each press-on nail kit comes with ten press on, a buffer, glue, an alcohol prep pad, a cuticle pusher, and a file. The mini kits range from $9 to $40, depending on your order's design, shape, and length.
Ethereally Touched Nails
Ethereally Touched Nails offers variety in their selection of press on nail kits. The sets come in coffin, almond, square, and stiletto shapes and a range of solid colored nails and fun designs to choose from.
If you're looking for a trendy set, Ethereally Touched Nails has you covered with options like cow print nails. This brand's sizing guide is the icing on the cake, so you don't waste a cent buying the wrong size.
Sculpted By Maya
Maya Brown is a self-taught artist from Florida who launched her press on business this summer. The business-savvy young woman offers solid, brightly colored designs and 2D and 3D artwork options.
Maya'sMaya's kits include nail adhesives, a cuticle pusher, mini files, and alcohol prep pads. There are two kit options for different application processes. If you prefer to glue your nails on, go for the Stuck On Glue kit.
The Sassy Nails Studio
If you are looking for crystal embellishments and drama galore, then you've come to the right place. The Sassy Nails studio has been active since 2017, giving us all a little extra glimmer when we need it most.
Each kit comes with ten nails and the essential application tools, including a buffer block. The Sassy Nails Studio sells credit card swiping keyring solutions so people with long nails can easily handle their cards.
Rave Nails
Austin-based nail artist Braelinn Frank'sFrank's dream all started at a few raves she attended in her lifetime. The artist would continually get complimented on her nail art while out, thus sparking her business idea.
Braelinn now sells her edgy nail designs in kits with 24 to 28 nails to create the perfect party manicure. Her kits include glue and a nail file, and one of her best sellers even has a gold chain connected to a nail.