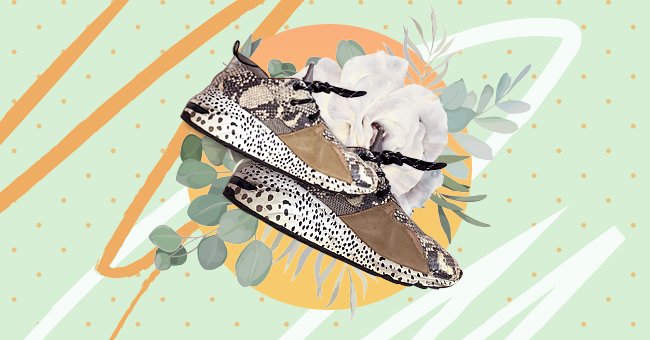 5 Ways To Style Statement Sneakers
We love "Sex and the City" just about as much as anyone. However, Carrie's constant scenes running around New York in her very high heels is maybe not the reason we were tuning in. Simply, wearing heels is kind of a chore.
Think about it. You can barely wear heels through a business meeting or on a night out. Furthermore, if you do, prepare for the inevitable pain your feet will experience. No amount of bath bombs is going to take that weird stinging and numb sensation away.
Yet, there is hope and an alternative - sneakers. Wait, before you leave, listen. Sneakers have risen to it-girl status. Moreover, from funky prints to designer kicks, sneakers do elevate your style. Ready? Here are five ways to style statement sneakers.
Sweats and Hoops and Sneakers
It's giving us "Jenny from the Block" vibes, but it's official, the early naughts are back. Before you go and bust out the low waist jeans you've been saving, take note that the early 2000s aesthetic has gotten has an upgrade.
Leave out the butt print and grab a pair of plain colored sweat pants. Accessorize with some designer sneakers and simple gold hoops. For that cool factor, add a statement puffer jacket over a vest to soften the look.
Feminine Silhouettes and Sneakers
Who says the two cannot mix? Feminine silhouettes look fantastic against the backdrop of sneakers, whose stark aesthetic adds some stylish balance. Furthermore, you have the opportunity to move even more freely.
Be the cool girl and pair your summery dresses with sneakers. Moreso, you can even try out sneakers and a skirt. Add on a chunky knit on top to keep up with this casual, contrast-inspired fashion trend. It's worth it.
Sneakers on a Night Out
We can dream, can't we. While the pandemic has got us all shut-in and clubs shut up, you may want to use this time for preparedness. Gone are the days when heels seemed like a good option for a night out on the town.
We promise sneakers and a cute slip dress paired with a statement bag will not make you look dowdy. In actuality, the look screams It-Girl. Furthermore, say goodby to calling it a night early because your heels are killing you. Easy and cool.
Workwear and Sneakers
As mentioned previously, you can also take statement sneakers to new heights by pairing them with your workwear. Sneakers have gotten a bad rep at the workplace as they seem anything but serious, unlike the career woman vibe you are trying to give.
However, a metallic set paired with a black pantsuit and blazer gives you two things - style and office points. Finish the look with a structured bag and a blouse. The key here is to style right. Go sober to avoid the look being too dressy, and you've got a winner on your hands.
Printed Statement Sneakers
Trips to the store, but make it fashionable in printed sneakers. A pair of animal print sneakers can do wonders for your overall outfit. Furthermore, take the easy route and make them slip-on sneakers for ease and comfort.
Pair them with jeans, denim shorts, and a casual t-shirt. These are great for everyday wear; therefore, there is no excuse to reach out for the espadrilles every moment. Let the print speak for itself by making an outfit neutral and solid.