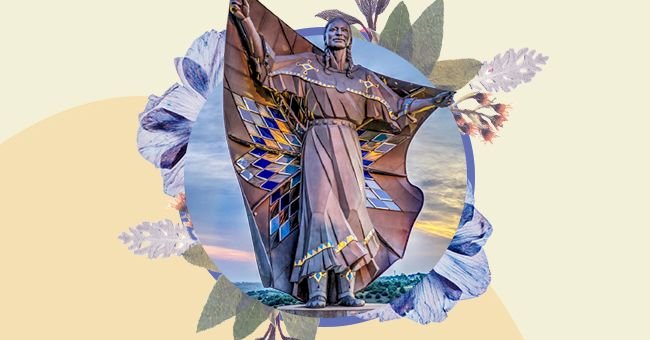 50-Foot-Tall Sculpture Called 'Dignity' Pays Tribute to Native American Women
A statue of a Native woman, called Dignity of the Earth And Sky erected in South Dakota to show respect for the Lakota and Dakota nations.
The sculptural artwork is called Dignity of Earth and Sky— but often referred to as Dignity—and is a statue of an Indigenous woman wearing a dress and adorned with a star quilt.
The one hundred and twenty-eight stainless steel blue diamond shapes of the quilt are designed to present a flutter shimmer in the light, day, or night. The breathtaking statue is located off I-90 in Chamberlain, South Dakota, sitting high above the Missouri River.
Dignity: Of Earth & Sky
Dignity of Earth and Sky—often shortened to just Dignity— is a statue of an Indigenous woman wearing a dress and receiving a star quilt.
The 50-foot-tall, stainless steel statue was designed by sculptor Dale Lamphere. He designed the sculpture to honor the cultures of the Lakota and Dakota people. In particular, it recognizes the often-overlooked group of women from these nations.
"The title of this piece is Dignity. It represents the pride and strength and durability of the native cultures here."

Lamphere said.
What Dignity Represents
Lamphere expresses that Dignity is a representation of the "courage, perseverance and wisdom of the Lakota and Dakota culture in South Dakota." He goes on to share his hope that the sculpture might serve as a "symbol of respect and promise for the future."
The stunning star quit also happens to be a significant symbol in the Lakota and Dakota cultures. At birth, babies are said to be wrapped with a star quilt.
"When a baby is born, they're wrapped in a star quilt because they came down from the stars so to speak. That's what people will see as the drive by on Interstate 90, just as they drop into the Missouri River basin, they'll see the star quilt right on the edge of the horizon."

Lamphere explains.
Lamphere's Intent
Lamphere took several years reserching this project and wanted a face that could hounor the Dakota and Lakota people.
As such, he used three Native American models aged fourteen, twenty-nine and fifty-five to perfect the face of Dignity. He says he borrowed features from each model to "get a look that was truly native."
If ever you plan to go and see this gorgeous sculpture, be sure to also learn something about the culture and history of the Dakota and Lakota people.