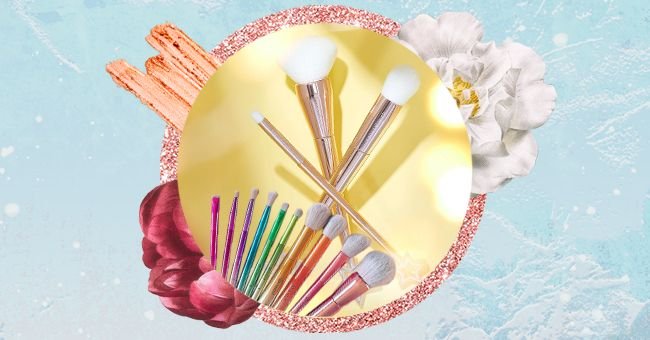 6 Aesthetic Makeup Brush Collections To Add Character To Your Vanity
While upgrading our beauty products is always on our priority list, the one area we tend to ignore is changing our makeup brushes. A top notch makeup brush set can change the way we apply makeup, and transform our look for the better.
Why is it that no matter how hard we try, our foundation is never smudge-proof and we put blusher in the wrong places. And let's not even talk about the eye makeup, because without an excellent eye shadow brush, even that is doomed to epic failure.
If you've been blaming your makeup products all this time, maybe it's time to consider updating your makeup brush collection. Take a look at these makeup brushes that are so aesthetically pleasing, you would want to add them to your vanity right now.
1.Star Magic By Sugar Rush
This gorgeous star-tipped set comes in a pair of three makeup brushes - face brush, concealer and eyeshadow brush. Get ready to wave your magic wand!
2.Cashmere Dreams By Real Techniques
You would not be able to escape the dreamy charm of this soft, violet-toned makeup brush set. You get a complete package from your complexion and blush brush to eye makeup kit. Super cool!
3.High Flyer Brush Set By Spectrum Collections
The pretty in pink, high flyer brush set comes with ten makeup brushes to cover all your beauty needs. And with the matching cute makeup bag, there's no chance you'd lose your pinky brush collection.
4.MorphexNikita By Morphe Brushes
Your eye makeup has to be on fleek and for that, you need a complete eye brush set. Look no further than this stunning collection that includes all the handy tools to help you nail your signature makeup look.
5.Waterproof Brush Set By Sigma Beauty
Get ready to redefine your makeup game with these brilliant waterproof brush set. Innovation at its absolute peak!
6.Rainbow Brushes By BH Cosmetics
This ten piece brush set from 'Take Me Back To Brazil Collection' is so pleasing to the eye. For the love of aesthetics.