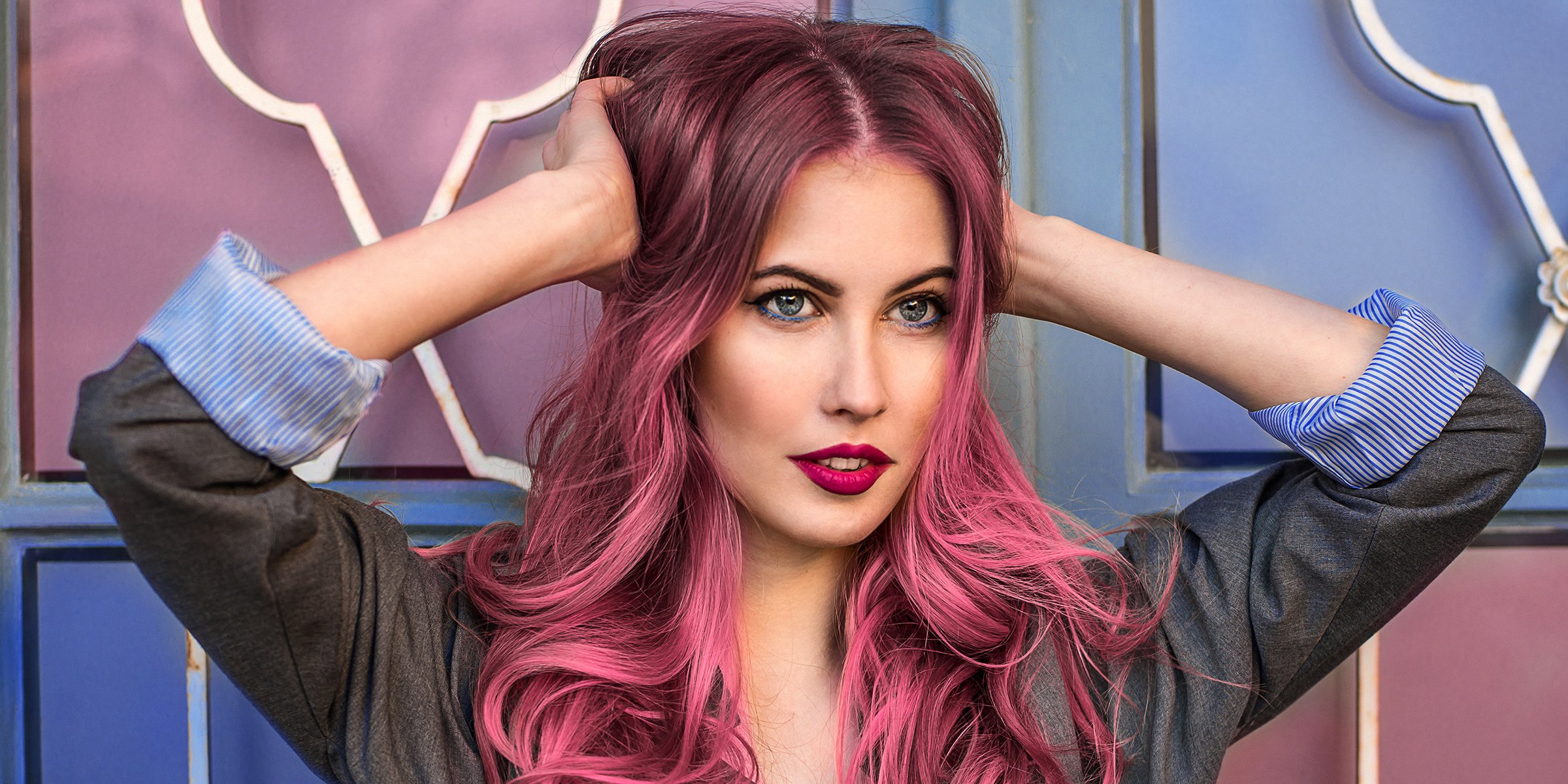 A model with a darker shade of dusty rose hair. l Source: Shutterstock.com
7 Dusty Rose Pink Hair Shades for Women

Dusty pink hair is a vibrant, yet still muted, take on pastel. With its grey undertones, the shade is flattering for most skin tones. The style is characterized by a velvet look, while the gold variations of this trend have an almost translucent quality.
Stars like Constance Wu, Hillary Duff, and Machine Gun Kelly have rocked dusty rose pink, which is millennial pink's moody cousin. Better make good friends with your colorist, especially if you have naturally darker hair, as the trend will have you in the salon for hours.
Womanly curated seven interpretations of this fun, feminine shade for all genders. If you can pick one of these gorgeous shades, keep in mind that color tends to settle after a few days, so it is wise to get a shade darker to get a longer lifespan of the hue.
Dusty Rose Gold
The gold undertones make one's hair appear sheer, which plays well to the fantasy of the look. The shade will make the plainest ponytail look like an intricate updo and works amazingly with vintage fashions.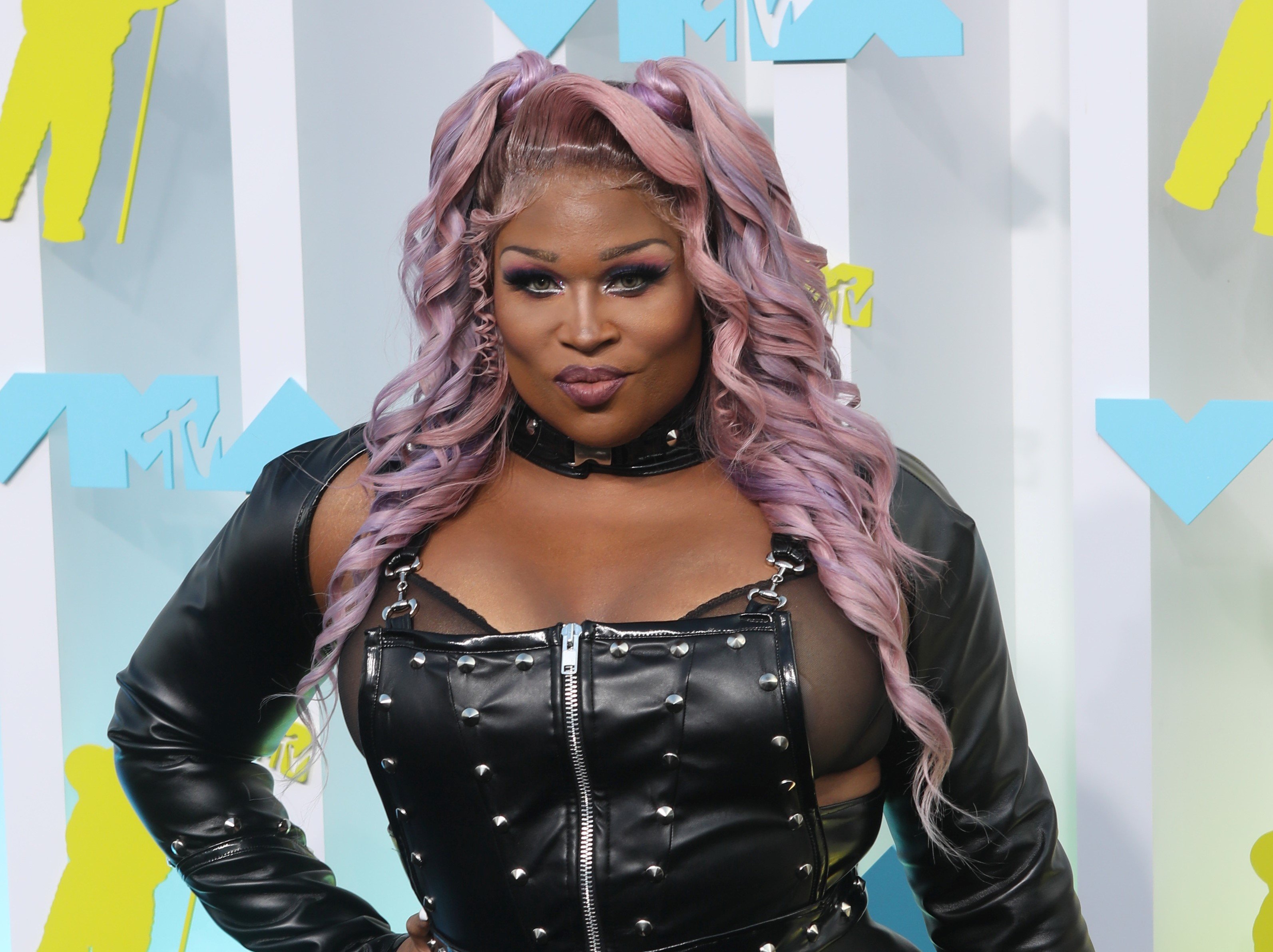 Peppermint attends the 2022 MTV Video Music Awards at Prudential Center on August 28, 2022, in Newark, New Jersey. | Source: Getty Images
Mauve Dusty Rose
This is a darker mutation of the classic dusty pink, and the mauve tint will have a substantially longer wear time. Though shadowy, this plum hair color is achieved successfully when starting from a light base such as blond, silver, or platinum.
Highlighted Dusty Rose
Highlights in a dusty rose shade will give depth to all hair colors and textures. Be sure to stock up on a bond sustainer to keep up the pop of color between visits to your salon.
Metallic Rose
Metalic rose is the ideal shade for those who are tired of their platinum tresses but enjoy the flattering hue of the shade. There are various products on the market to maintain this color.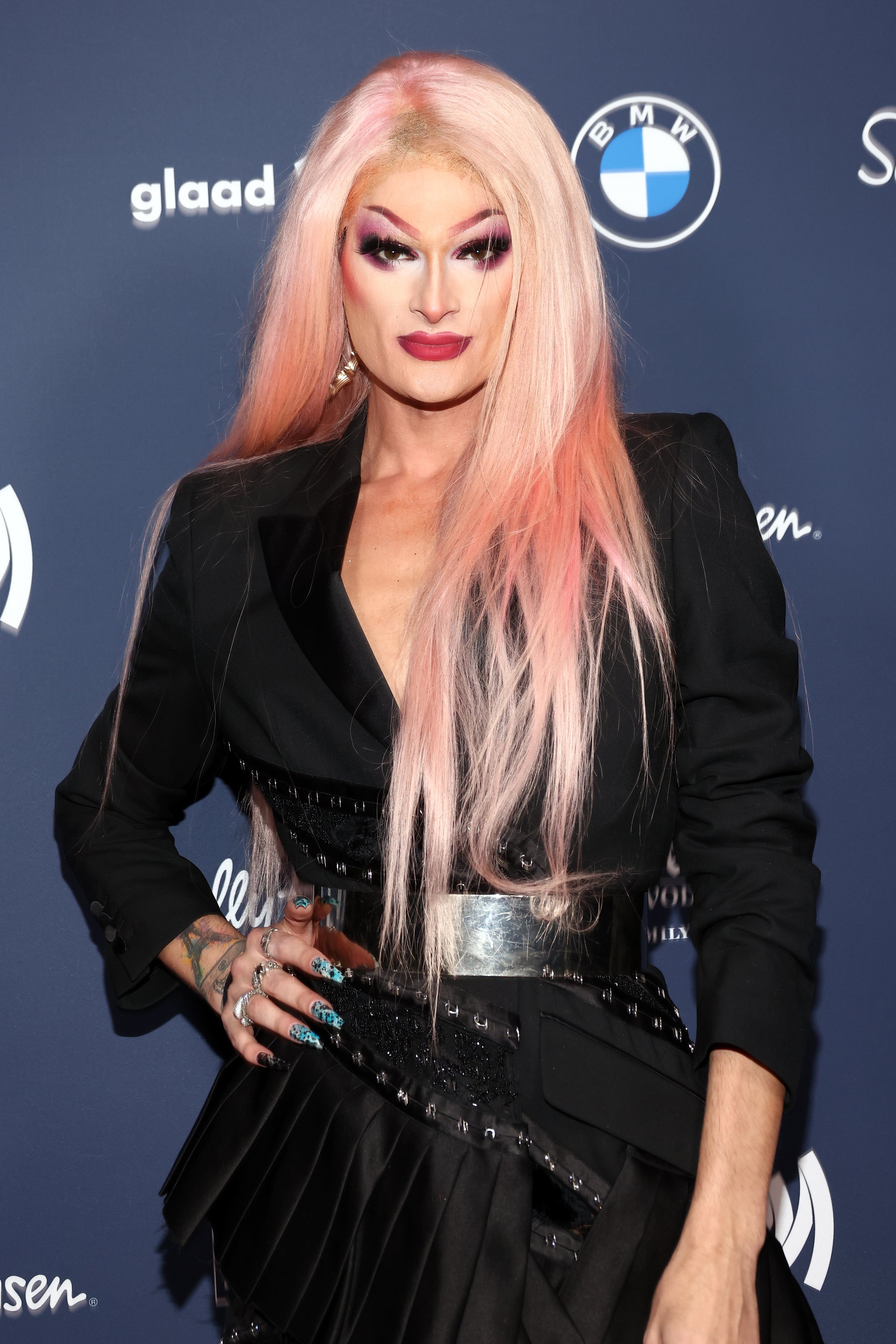 Rhea Litré attends the GLAAD Tidings Presented by Ketel One at The GRAMMY Museum on December 03, 2022 in Los Angeles, California. | Source: Getty Images
Opalescent Rose
The shimmery tones of an opalescent rose dye give hair the appearance of an opal which colors move in the light. This hairstyle is a gift to anyone sitting behind you during a boring lecture, as it will appear to change as the light catches it at different angles.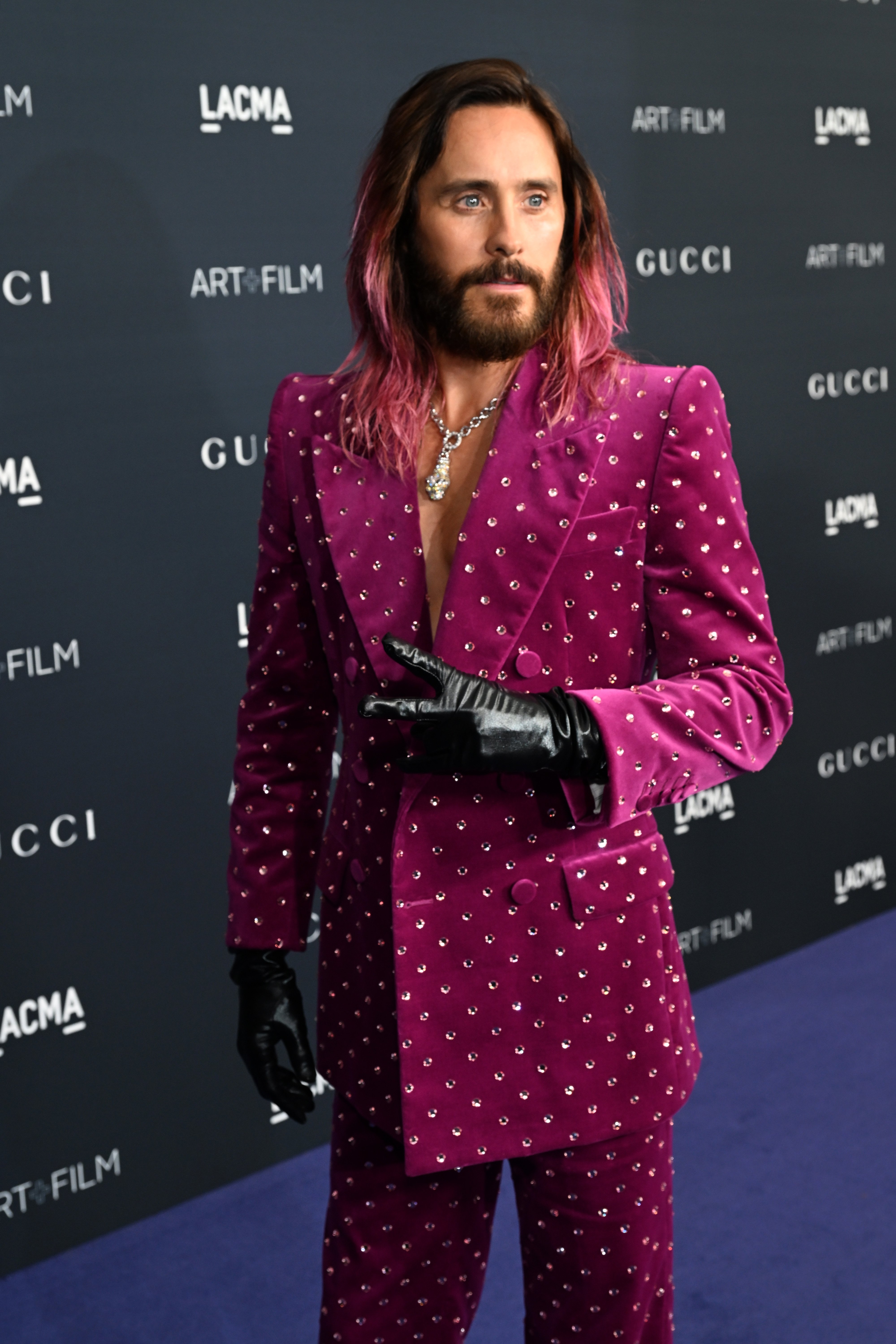 Jared Leto attends the 2022 LACMA ART+FILM GALA Presented By Gucci at Los Angeles County Museum of Art on November 05, 2022 in Los Angeles, California. | Source: Getty Images
Rose Pink Ombre
This is a classier iteration of mermaid hair characterized by its multiple shades of fantasy hair colors. The dusty pink ombre look works best in medium to long hair with a light curl.
With a significant investment in money and time, do not skimp on products to protect the color...
The most significant advantage of any ombre dye is that it is remarkably lower maintenance than coloring the whole head, making it a more affordable route that is kinder on your roots.
Rose with Silver
As silver is one of the perfect base colors for dusty pink, it also works beautifully as the starting point in an ombre effect with pink or the other way around.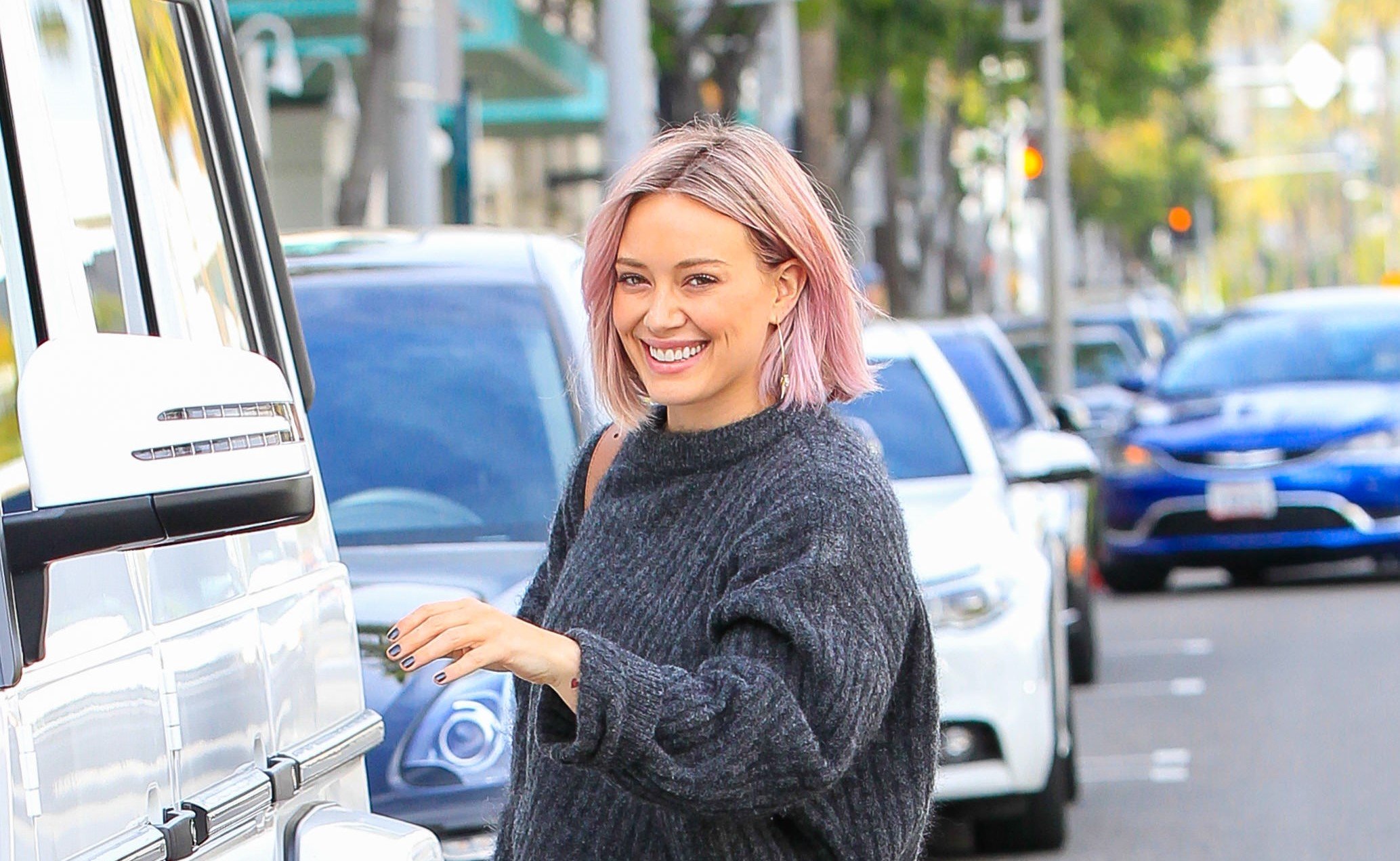 Hilary Duff is seen on January 22, 2016 in Los Angeles, California. | Source: Getty Images
How to Maintain Your Dusty Rose Pink Hair
While still high maintenance, dusty pink is slightly easier to maintain than the brighter hues in the blush and fuchsia family. Overwashing your hair and heat treatments, including the sun's UV rays, negatively impacts the vibrancy of your shade.
As with all vibrant shades, cut down on washing with dry shampoo or talcum powder. With a significant investment in money and time, do not skimp on products to protect the color, and ask your colorist for recommendations on color-specific shampoo and conditioner.
Michelle Li outside Maryam Nassir Zadeh on September 12, 2022 in New York City. | Source: Getty Images
To get the most out of the conditioner, towel-dry your tresses first. The hair mask is a vital and often neglected step in the process to get the most mileage out of your blush hairdo and will protect your hair from breakage.
The number one rule of dusty rose hair color is avoiding box colors. Especially when it comes to bleaches, it is safer to trust your locks in the hands of a professional colorist who will mix a customized solution for the texture and health of your hair.