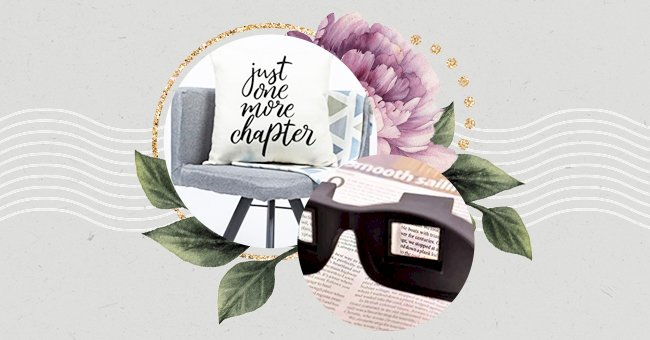 7 Reading Products That Book Lovers Will Enjoy
Reading is a luxurious experience that transports us into the realms of knowledge, fantasy, and adventure. So if you're fond of getting lost in the pages of your favorite book, you're in for a grand surprise!
If you're an avid reader, chances are you're always looking for something to add to your TBR pile. In addition to hoarding more books in your library, you can also invest in products that will make your experience all the more fun.
We're talking about LED book lights, artsy book holders and bookmarks, reading spectacles, and so much more. And the best part is that you can buy all of these smart reading products on Amazon. Happy shopping!
4TH Emotion Just One More Chapter Throw Pillow
And here comes all the motivation you need, and that too, in the most comfortable form ever! In fact, all you have to do is sit back and relax , and this throw pillow's positive vibes will get you through that one exciting chapter of your current read.
Thumb Thing Book Page Holder and Bookmark
One of my biggest pet peeves as a reader is those flying book pages that just won't stay in place. But with this handy book page holder and bookmark, you can secure and keep track of your last read pages.
Vekkia LuminoLite Rechargeable 4 LED Book Light
There's something about nighttime reading that excites us readers (guilty as charged). However, reading in the dark and under low light can be harmful to eyesight, and that's where this innovative LED Book Light comes in to save the night. Quite literally.
All you have to do is wear it around your neck, and it can last up to 40 hours with single charging. Moreover, it's comfortable to wear for prolonged periods and provides sufficient light for your late-night reading.
My Bookmark Wicked Witch Bookmark
Bookworms have a weakness for collecting cool bookmarks, and this Wicked Witch Bookmark takes coolness to a whole new level. After all, when you have two striped legs and a pair of red shoes sticking out from your favorite book, you'd be thrilled to get back to reading ASAP.
Energizer Clip On Book Light
If you're fond of late-night or bedtime reading, this Clip On Book Light will be an excellent pick. Furthermore, you can carry this handy book lamp anywhere, and it can clip on to books, tablets, and other reading materials.
Finally, it has a running time of about 25 hours so that you can devour your favorite reads for extended periods of time.
Flammi Prism Glasses
All the couch potatoes and lazy readers will cherish these prism glasses. They are also an excellent pick for people who want to enjoy watching their favorite movies and TV series from the comfort of their beds.
The Book Seat
It's time to revolutionize your reading experience with this handy Book Seat, which also doubles as a traveling pillow. Moreover, you get to choose from eight different colors, including red, turquoise, blue, and purple.