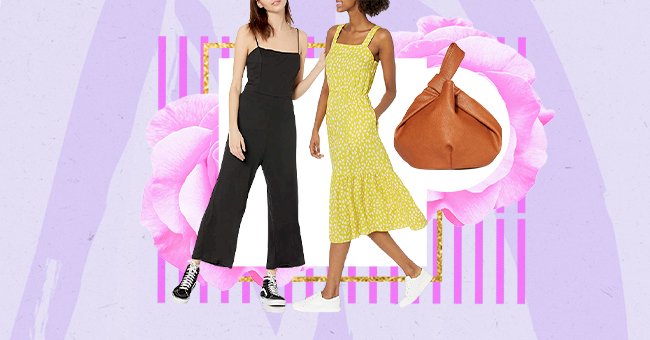 7 Summer Wardrobe Essentials To Shop On Amazon
You know it's time to upgrade your closet when the springtime weather makes way for warm, sunny days. Stepping outside in the sun requires refreshing fabrics, comfy sandals, and chic bags so that you can tread in style.
Here's to another summer season amid the coronavirus pandemic. However, we can still celebrate the rising temperatures by parading in our favorite outfits, whether it means a small house party or some beach-time fun with your friends.
Whatever your plans are for the summer season, a wardrobe update is long overdue, and we're here to help you do just that. Next, take a look at the best summer wardrobe essentials, so you can frolic around in the most stunning summery fabrics without breaking the bank.
Long-Sleeve Ruffle Woven Top
For lovers of casual fashion, this long-sleeve V-neck ruffle top is a must-have. It comes in seven exciting colors and a timeless, classy appeal, so you're forever ready for a Saturday indoors or a Sunday at the beach.
Tiered Midi Summer Dress
You cannot imagine the warm season without a sundress, and this one will help you stay on the stylish side. Available in eight fantastic colors, including yellow, pink, and green, this flattering summer dress will become your favorite in no time.
Avalon Shopper Tote Bag
This tote bag will totally have your heart with its soft, slouchy design. It comes in six different colors, including brown, black, ivory, and red, so you can choose the one that best defines your attitude.
2-Pack Classic-Fit Short-Sleeve Crewneck T-Shirt
Are you thinking of updating your old lounge shirt with a refreshing summer-ready option? This classic crewneck t-shirt has over 24,000 raving reviews, so you know it's worth a shot. You can choose from 30 exciting shades.
Long-Sleeve Spring Dress
There's something about a white dress that never fails to amaze, regardless of the weather and occasion. Reign in the classy summery vibes with this flattering long-sleeve white dress, with sleeve detailing and button closure.
Soler Leather Flat Sandal
Leather shoes always look elegant, classy, and on-point. These flat sandals made from 100% leather come in two colors, black and brown, perfect for everyday wear or a trip to the grocery store.
Tie-Back Wide-Leg Jumpsuit
Jumpsuits have a cool-girl vibe, befitting for the days when you just can't be bothered to pair a shirt and pants. Choose from black, animal print, and polka dots, and pair them with your favorite sandals or sneakers. You'll be nearly set for the warmer season.