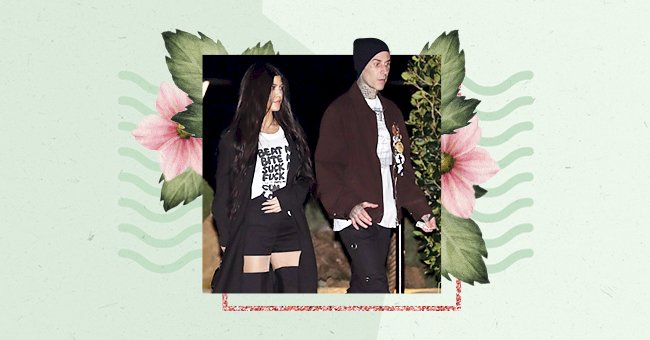 A Glimpse Into Kourtney Kardashian's Relationship With Travis Baker
The Poosh founder and Blink-182 star are confirmed dating! It seems like an unlikely match but the two seem to have been friends for years.
Kourtney Kardashian and Travis Barker are confirmed dating and have been spotted out in Los Angeles together. The news took many by surprise because you wouldn't think sparks would fly between the oldest Kardashian and a drummer, or would you?
The two have a background in reality TV; Travis had his own show, Meet the Barkers, which paved the way for Keeping Up With The Kardashians to be where it is today. Like any budding romance, it has to start somewhere, so here's a look into it.
How did they meet?
MALIBU, CA - MARCH 19: Kourtney Kardashian and Travis Barker are seen at Nobu on March 19, 2021 in Malibu, California. (Photo by Photographer Group/MEGA/GC Images)
Travis Barker was dating Paris Hilton, best friend of Kim Kardashian, who he confessed he had a crush on back in 2006. He helped inspire Kim and her family to their successful TV show Keeping Up With The Kardashians.
After that, he's always been close with the Kardashian family, which is probably why he and Kourtney were spotted leaving a vegan restaurant in 2018. They started hanging out a lot in 2018 and were spotted on multiple occasions, which included a church service, dinner, and a night out!
The rumors circulated, but the couple put them to rest, saying that they were just having dinner as friends. But isn't that how all budding romances start as friends?
In early 2021 a source confirmed that the two were getting quite cozy! Spending a lot of time together can leave you smitten to the point of dropping roses in Instagram comments!
The following clue was a picture shared on either account at Kris Jenner's Palm Springs home; sources say that they had been dating for at least two months by then! Early February, she posted herself as a mysterious phone's locked screen; we only wonder whose it could have been.
She then confirmed that they were dating on Valentine's Day with a cute photo of them holding hands. And since then, their puppy love has only blossomed into handwritten "I love you" notes.
Ever since being out in the open, they haven't been shy to be out and were spotted with Machine Gun Kelly and Megan Fox on a double date. They've been out multiple times and posted each other on Instagram.
Kourtney recently posted a tattoo of her name on his body alongside her spring manicure. If that's not commitment enough, they took a family vacation to Utah in April.
They've been keeping us updated on their successful relationship through steamy pictures of PDA. And we've seen some cute family photos of them having a great time!
For her birthday, he spared no expense and got her an elaborate floral arrangement with a steamy video of yet more PDA! The pairing might have taken us by surprise initially, but their relationship seems to be thriving and exciting; we can expect to see much more!