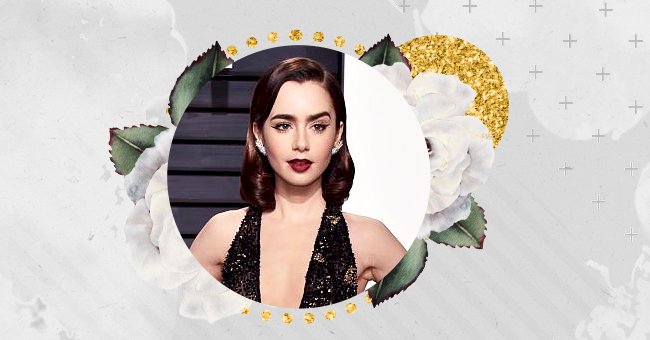 A Glimpse At Lily Collins Top 10 Style Moments Over The Years
Lily Collins has been giving us perfect eyebrow goals for a long time, but her sartorial style is also worth appreciating. The actress exudes sheer elegance and class no matter what she wears, whether it's a designer dress or a red carpet ball gown.
If you've seen Collins' impeccable performance in films and TV, then you'd know about her effortless performances from Emily in Paris to Mirror Mirror and Love, Rosie. The Dior star's Instagram account features numerous picture-perfect shots, the most noteworthy being her phenomenal selfies.
Throughout the years, the 32-year-old actress has served style inspiration with her one-of-a-kind outfit choices. Let's take a glimpse at some of Collins' top style moments that contributed to establishing her as a bonafide fashion icon.
1.Golden Globe Awards 2021
Collins channeled her inner Emily for her Golden Globes bicoastal award event. She wore a bold one-shoulder paisley embroidered and vintage-themed Saint Laurent dress and paired it with vibrant lipstick and short curls.
2.Vanity Fair Oscar Party 2017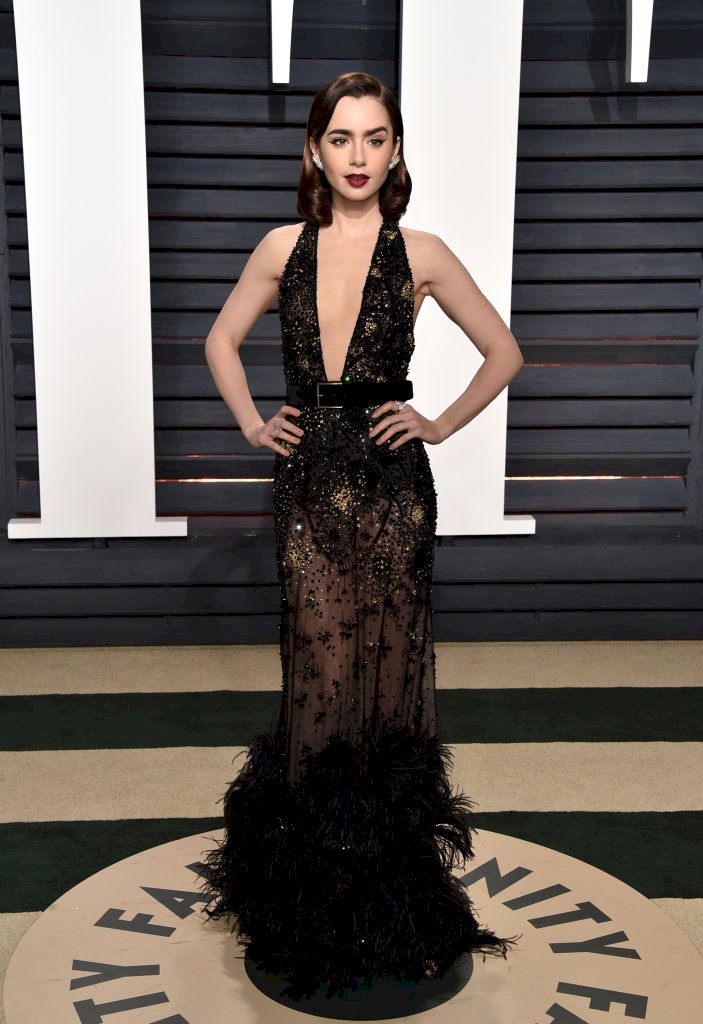 Getty Images
The Abduction star attended the 2017 Vanity Fair Oscar Party wearing a sheer glittering dress in Beverly Hills, California. She wore a floor-length black beaded Elie Saab couture gown with a plunging halter neckline and frill hems and matched it with a bold red lip and short hair.
3.Met Gala 2017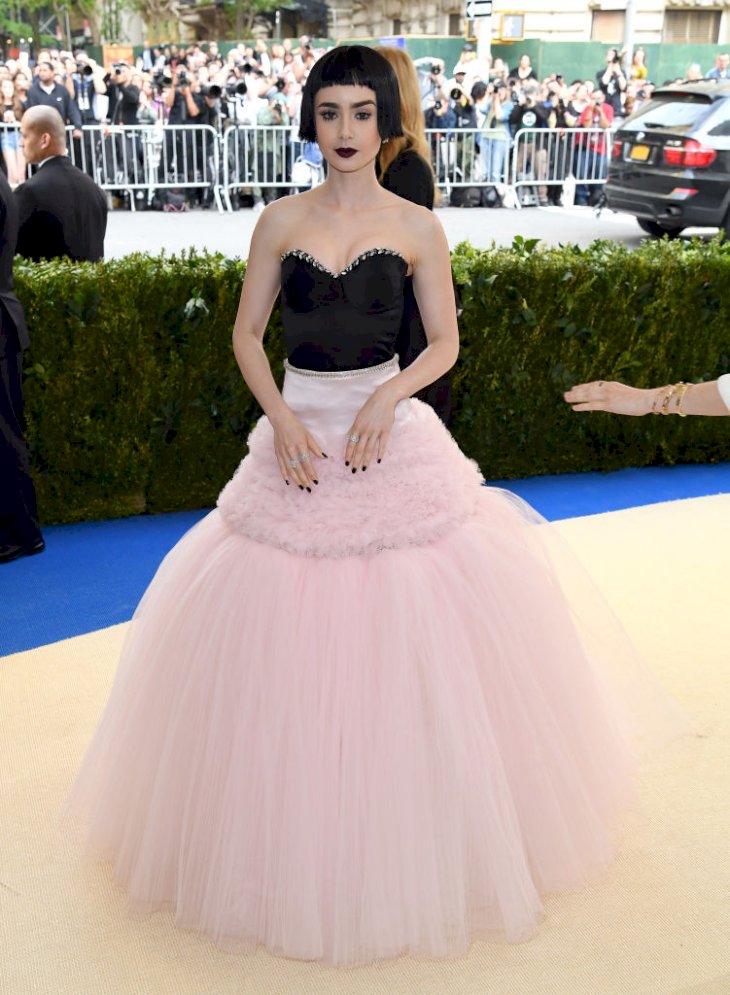 Getty Images
Collins stunned in her couture gown at the Met Gala in 2017 in New York City. The star chose a pink tulle and black corseted Giambattista Valli gown with stellar eye makeover and statement jet black short hair.
4.The Last Tycoon Premiere, July 2017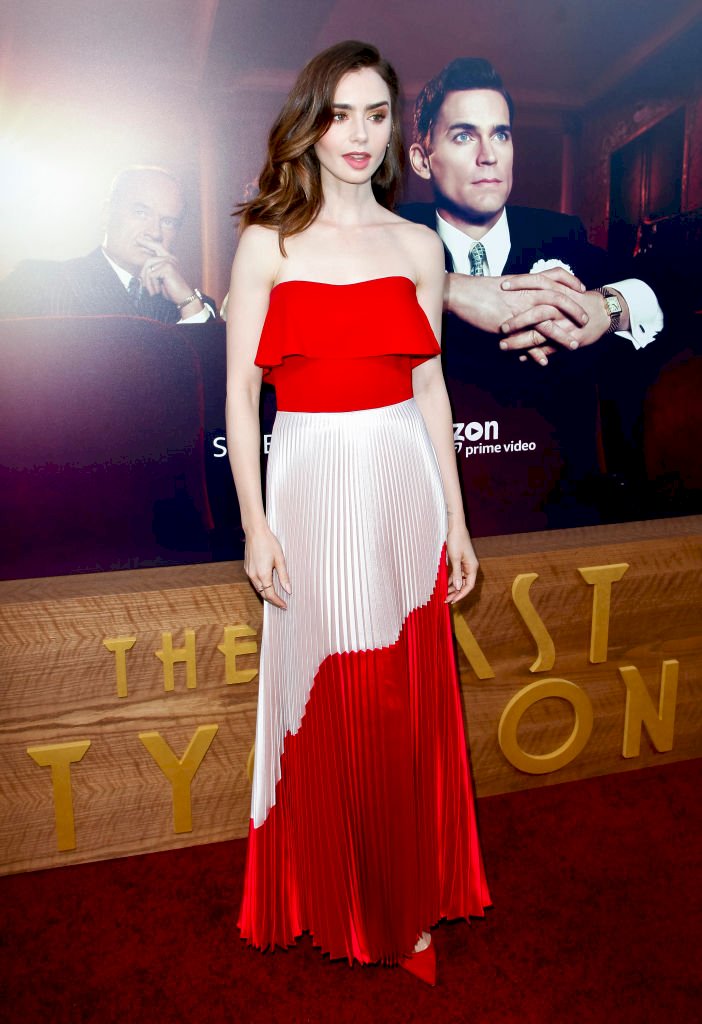 Getty Images
The Emily in Paris star looked magnificent at The Last Tycoon's premiere event in Hollywood, California, in 2017. She opted for a strapless pink and red pleated Reem Acra dress with matching shoes.
5.Lancome 80th Anniversary, July 2015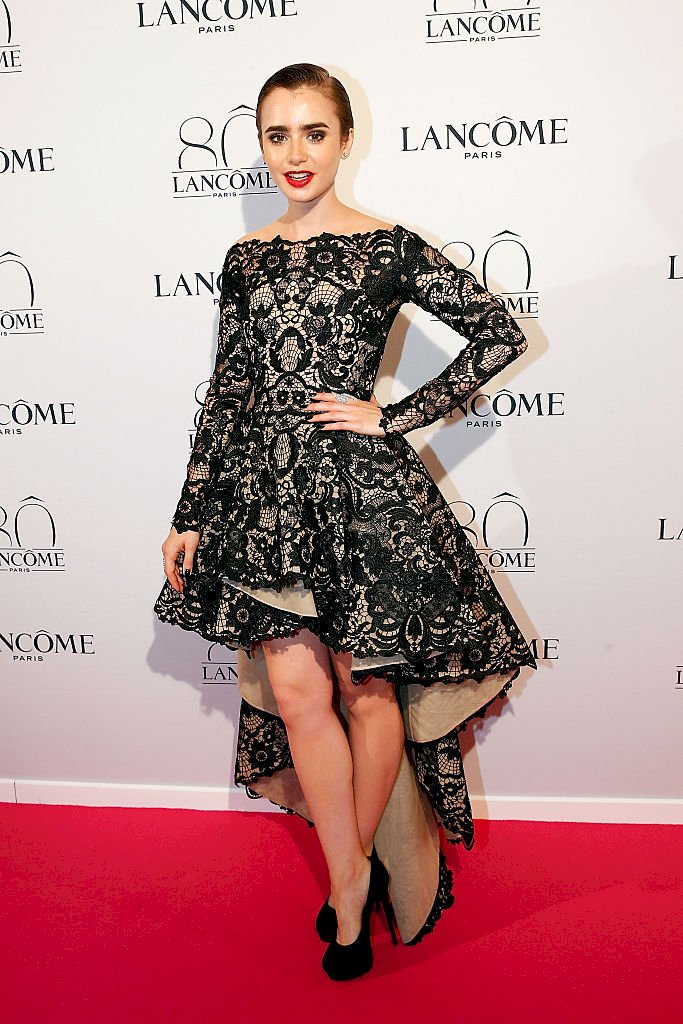 Getty Images
The Love, Rosie actress was a force to be reckoned with at Lancome's 80th Anniversary party in France, 2015. She donned a high-to-low embroidered Mikael D Dress and finished off the look with combed-back hair and a pair of black stiletto heels.
6.Rome Film Festival, October 2014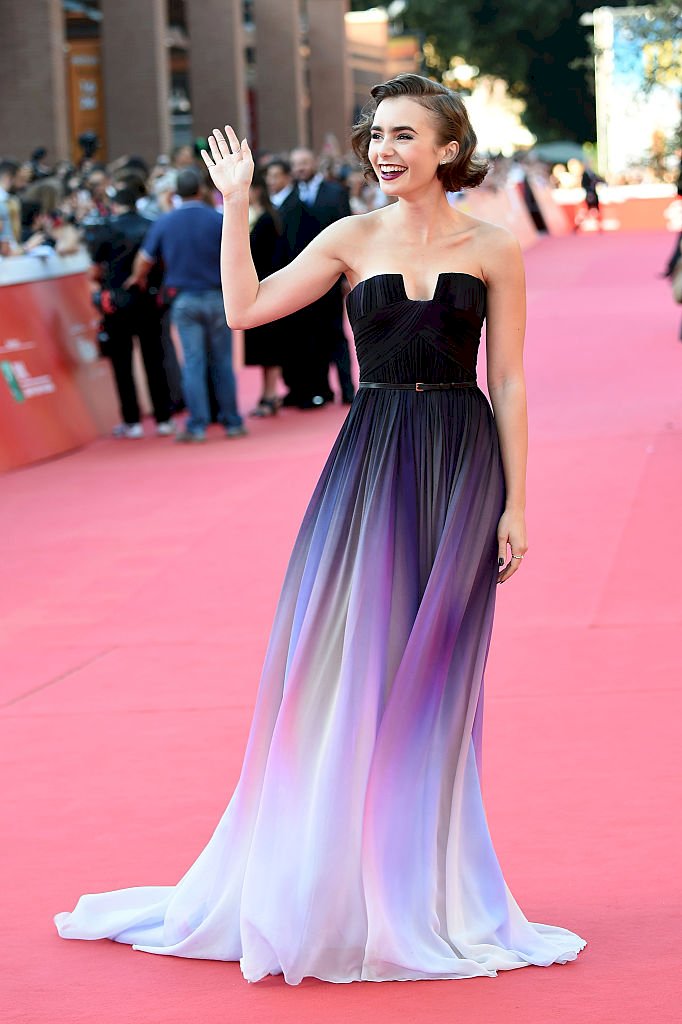 Getty Images
Collins was a shining star at the Love, Rosie red carpet during the 9th Rome Film Festival in 2014 in Italy. She wore a mesmerizing ombre-toned strapless Elie Saab gown with a sleek black belt around her waist.
7.Love, Rosie Photocall, 2014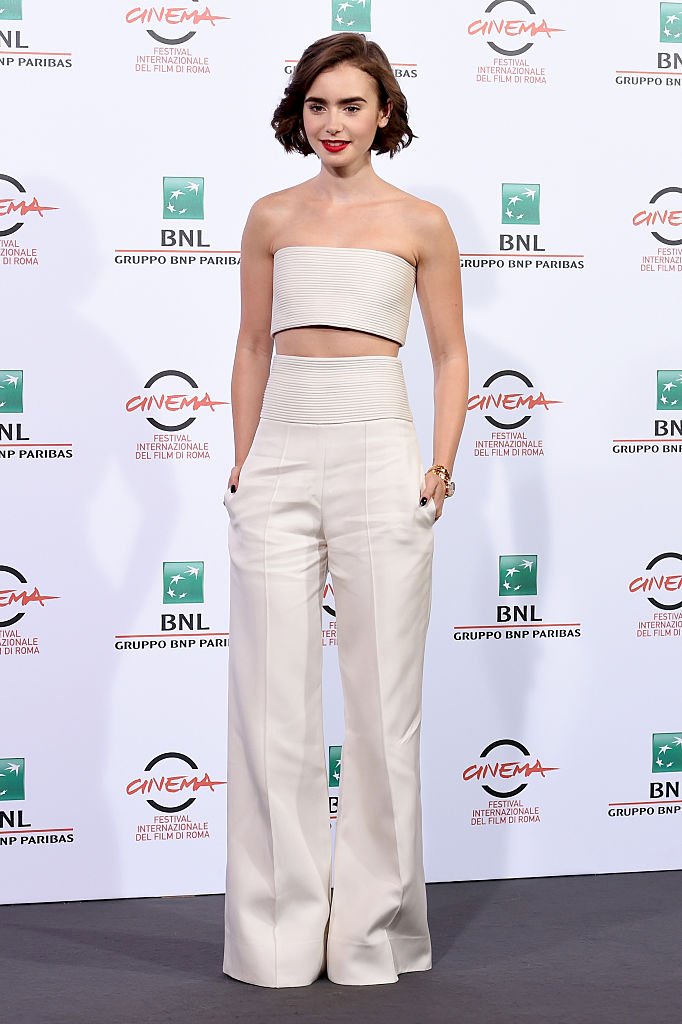 Getty Images
The British-American actress never fails to amaze with her elegance and class. She picked an all-white two-piece dress from Pamela Roland's Spring/Summer 2015 collection for the Love, Rosie photocall in October 2014 in Rome.
8.The Mortal Instruments: City Of Bones Premiere, 2013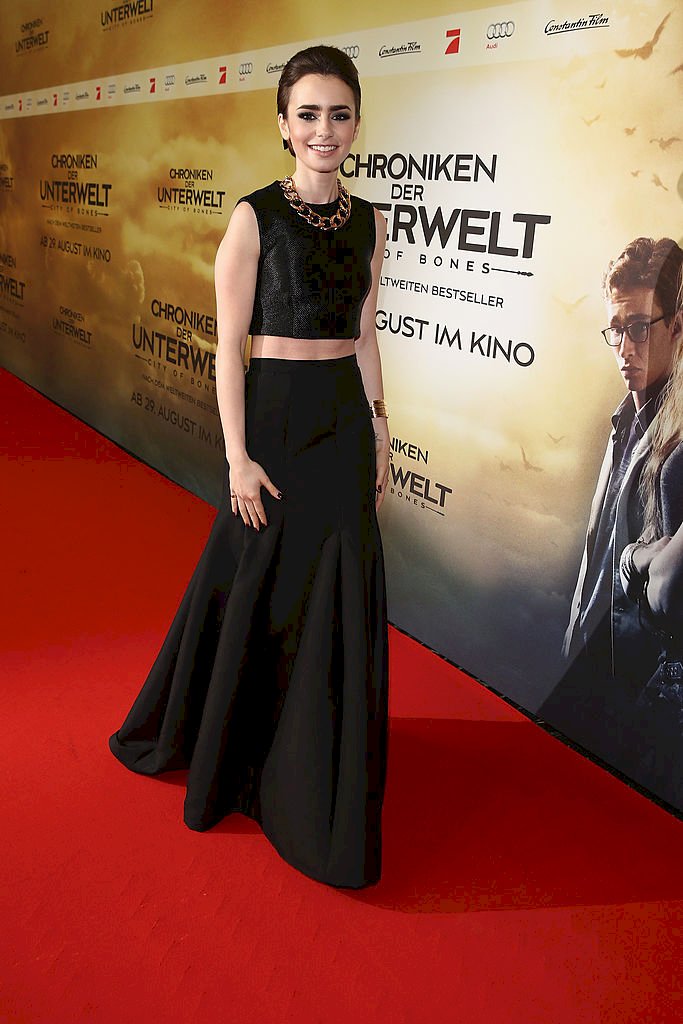 Getty Images
Collins looked sensational in her black outfit at The Mortal Instruments: City of Bones Germany premiere in 2013. She chose Paper London for the evening and finished off her look with an intricate chain patterned necklace.
9.CFDA Fashion Awards, 2012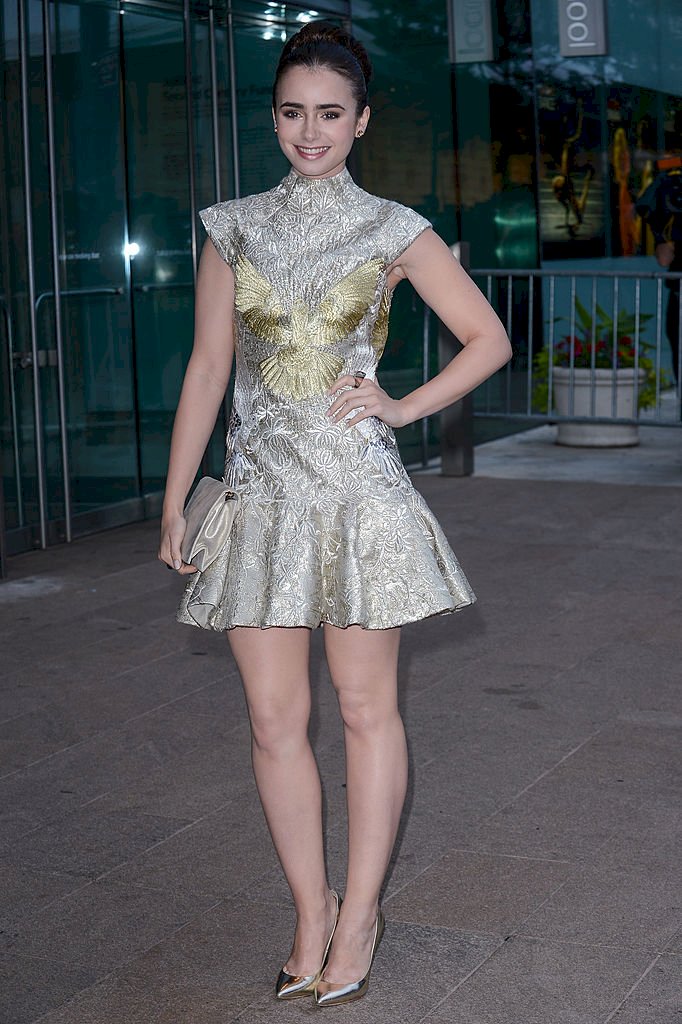 Getty Images
The Inheritance actress was a welcome sight for sore eyes at the 2012 CFDA Fashion Awards 2012 in New York City. She donned an embroidered short body Marchesa dress and paired it with Swarovski jewelry and matching heels.
10.Vanity Fair Oscar Party, 2012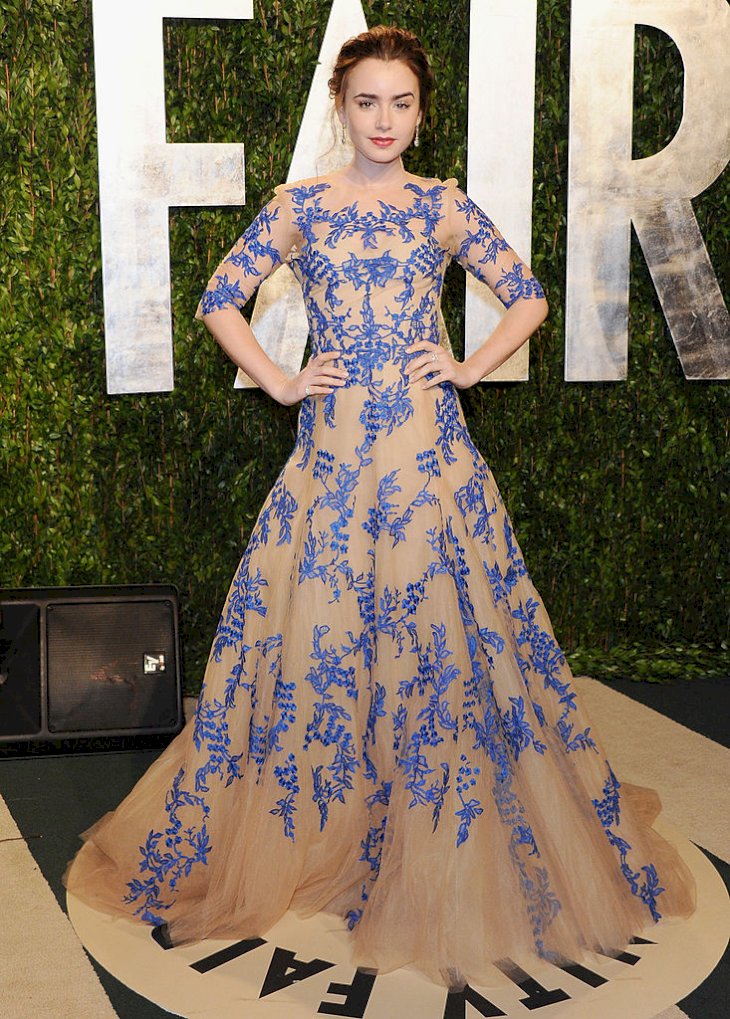 Getty Images
Collins exuded sheer confidence and grace at the 2012 Vanity Fair Oscar Party in 2012 in California. The evergreen star picked a dazzling floral embellished gown by Monique Lhuillier that highlighted her silhouette perfectly.