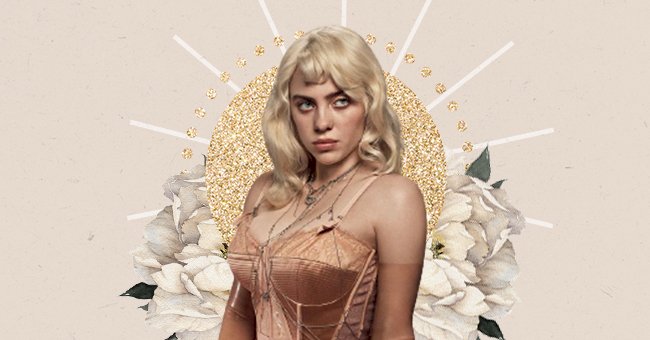 A Glimpse Into Billie Eilish's Vogue Cover Look
Billie Eilish can now be described as a human butterfly because she underwent a metamorphosis for the cover of British Vogue. She looks all shades of stunning in the final images released via Instagram.
The 19-year-old pop star has taken off her green wig and baggy sweaters and swapped them for something a little more skimpy and spicy for the British Vogue June 2021 issue.
Now, we've seen Billie Eilish without the green hair and the baggy clothes, but we've never seen her show off her full figure for a photoshoot.
Her Outfits
For the British Vogue June 2021 cover, Billie Eilish was styled by Dena Giannini. She was styled in various corset looks that showed off her curves.
In her all-black look, she sported a custom catsuit, corset, and shoes by Mugler and jewelry by Anitako. She then changed into a corset dress with a draped skirt by Alexander McQueen.
Her latex gloves, suspender belt, and stockings by Atsuko Kudo Latex, sandals by Andreas Kronthaler for Vivienne Westwood, and Gina Shoes Official. A custom trench coat and corset by Burberry, boots by Mugler, gloves by Thomasine.
There was also a custom corset and skirt by Gucci, bra, and panties by Agent Provocateur. All her jewelry were by jewelry by Jacquie Aiche and Anitako.
Her Hair
Billie unveiled her brand new butterscotch hair for the cover, which took four dye sessions to erase the signature jet black and lurid green she has been wearing for eighteen months. Her hairstyle for the cover shoot is equal parts elegant and cool, with its pin-up fringe and stylistic curls.
Billie Eilish's hairstylist, Benjamin Mohapi, founder of BENJAMIN salons, explored ideas of western feminine beauty from the 50s and 60s era. He riffed off of Billie's newfound womanliness to inform the look which had a striking resemblance with Marilyn Monroe's look.
Billie Eilish On Body Image Issues
She talked about body image issues and not necessarily the ones she had for herself. But the ones the media have put on her as she has been in the spotlight.
Billie talks about the freak-out some outlets had when she came out with something other than her signature look. She is also seen as a feminist thought leader for her fans.
That Billie at 19 and is often hailed as the antidote to toxic tropes for women in pop, and being a reluctant icon of body positivity makes her June cover shoot an intriguing change of gear.
"Suddenly, you're a hypocrite if you want to show your skin, and you're easy, and you're a slut, and you're a whore. If they are, then I'm proud. Let's turn it around and take power in this. Showing your body or not shouldn't take respect away from you."
In other words, Billie Eilish wants you to do what the hell you want and see the hell you want, regardless of what others expect. That's good advice right there!