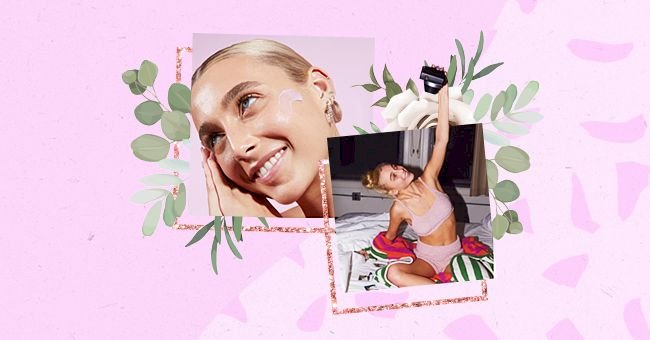 A Glimpse Into Emma Chamberlain's Beauty Routine
Popular Youtube sensation Emma Chamberlain opens up about her acne journey and how she takes care of her skin, including some of her favorite skincare products.
Emma Chamberlain has been making viral videos on youtube and Instagram with over twenty million sets of eyes following her on the internet; she started to pay more attention to her skin. The viral content creator subsequently made a foray into skincare. She now finds herself holding the position of Global Ambassador and Creative Director skincare brand Bad Habit.
The nineteen-year-old has described her experience with her acne journey as a "love-hate relationship." She has been candid about her acne. Seeing Chamberlain with acne was a relatable experience for many people who followed her content online.
Quarantine Skincare
At the beginning of quarantine last year, Chamberlain was on Accutane. Which some people may be familiar with as a popular, prescribed acne treatment. In an interview with "Elle," she details how the treatment dried out her skin.
However, upon completing her seven months of Accutane, she says she could lean into her skincare routine as her skin had evened out. She told "Vogue" that that process helped her fall in love with her skin.
Treating The Skin Around Her Eyes
One of the areas of skincare that more people are starting to pay attention to is the thin skin around the eyes. While the common misconception is that eye cream should be used later, it's recommended to start sooner rather that later.
"I've been using a lot of eye cream not just in the morning and night but also throughout the day. I use the Bad Habit Eye Cream, and I'm going to use the whole bottle in a week."

She tells "Bustle."
Chamberlain's Beauty Philosophy
Chamberlain makes a point of making individuality the center of her skincare. She makes sure to personalize her routine to work for her
"What makes you feel beautiful? What works best for your body? There's something cool about how personal it is."

Chamberlain tells "Bustle."
Chamberlain On The Viral Undereye Makeup Trend
"I actually have grown to love my dark circles this year. I think style is getting a little bit more grungy, a little bit more natural. I feel like my under eyes make me look like a Tim Burton character and I'm not mad about it."

Chamberlain told "Elle."
Chamberlain tells "Elle" that even despite the undereye makeup trend, which she appreciates for "defying" beauty standards, she believes in also taking care of her undereye skin.
Some Of Her Go-To Products
In an interview with "Vogue," she dropped some of her skincare secrets, including some products from "Bad Habit." She likes using the Bad Habit Silent Mode Hydrating Hyaluronic Mask ($24) two to three times a week.
For eyes, she uses the Eyes Open Caffeine and Peptide Eye Cream ($19), Elta MD UV Clear Facial Sunscreen Broad-Spectrum SPF 46 ($36), Bad Habit Dewd Hemp Nourishing Facial Oil ($29), Kosasport LipFuel Hyaluronic Lip Balm ($18).