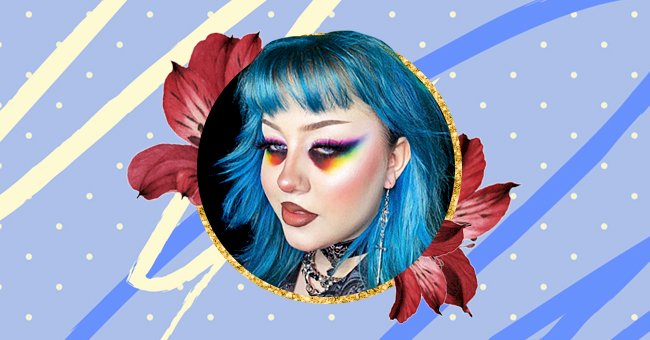 TikTok's 'Colorful Eye Bags' Trend Is The Latest Viral Makeup Look To Try
TikTok always comes in hot with the newest trends, and this latest one is genius. If you have ever felt bad about your under-eye bags, get ready to reclaim the look with this colorful makeup trend.
Almost anything can trend on TikTok, so it was shocking to find one that surprised people globally. More and more TikTokers hopped onto this unlikely makeup fad that's officially gone viral on the application.
Although TikTokers first met this new makeup trend with confusion, it's finally receiving praise. See how and why the colorful eye bag makeup trend came about and how you can achieve the viral look from home.
Where It All Began
TikTok beauty trends can be entirely out of the ordinary at times, but nothing could prepare users for this trend. The internet was divided when a TikTok video showed a user drawing under-eye circles with makeup.
TikTok user Sara posted the clip of her using a taupe shadow stick to achieve a dark eye bag effect. Many praised her for normalizing under-eye bags, while others were confused and perceived it as mockery.
As a response to the backlash, Sara posted another video explaining why she shared the eye bag clip. Sara expressed that she didn't make the clip with malicious intent because she was also bullied for dark circles.
A Colorful Take
TikTok has given us a variety of strange beauty trends, including blow-drying lashes and sock curls. It is evident that this app's users are incredibly creative, resourceful, and willing to go the extra mile.
A 17-year-old makeup lover named Pippa Barnes managed to one-up the viral dark under-eye bag trend. Pippa added a twist by venturing into colors in a tutorial clip that already has almost a million views.
"Y'all know I had to spice this trend up a bit."

Says Pippa Barnes
Pippa shares that she was bullied for her under eyes in the caption for her first colorful eye bag tutorial. This trend is a lovely way to reclaim insecurity and enhance it to make it beautiful for yourself.
Try This At Home
Many other TikTok beauty trends are not the safest to try at home, but thankfully, this one is. Not only is this makeup look empowering for many, but it is also super unique and looks like a gorgeous grunge trend.
Getting this vibrant eye bag look is very similar to applying a smokey eyeshadow look. According to the tutorial, you need to start with your complexion makeup and then apply shadow as you would on the lid.
Accentuate the shape of your lash line with a black eyeshadow first, then blend in the other colors. Use a dark to light gradient from the corner of your lower lash line to your cheekbones and blend to your satisfaction.
There are numerous takes on this look that Pippa has shared on her TikTok so that you can get creative. We are so glad that makeup rewrote a narrative about harmful beauty standards that we can't wait to try this out!