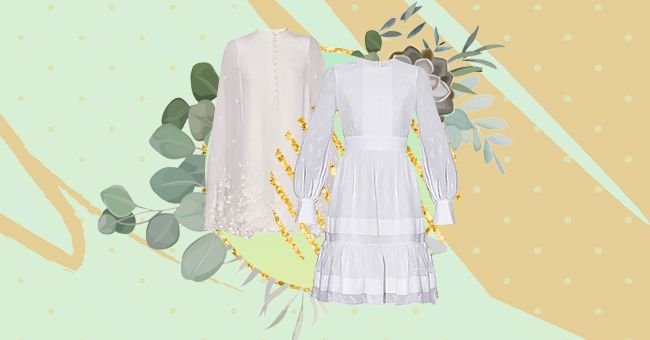 A Glimpse Into Erdem's Tradition But Different New Bridal Collection
Casual. But formal. Traditional. But different. Erdem launches his first wedding dress collection for the bride who wants to take a casual approach to the traditional wedding dress.
Weddings have changed in several ways in the past year. Ceremonies were postponed, and dreams of grand celebrations were significantly downscaled. Guest lists included close loved ones in backyard parties and bridal gowns, simplified.
After years of spending time designing high-end and exclusive gowns for private clients, Erdem Moralıoğlu took time during the lockdown to respond to the change in the state of wedding ceremonies.
The White Collection
Erdem's White Collection fits ideally for the intimate get-together style wedding that many couples are opting for now. They're the kind of dresses you can wear to an outdoor ceremony and possibly even rewear.
Not to be mistaken, the dresses are still highly considered in their detailing, highlighting the hand-craftsmanship. Moralıoğlu talks about his inspiration for the collection, particularly how he wanted dresses to feel "modern."
Moralıoğlu's new bridal collection encapsulates the spirit of right now. It caters to the need for gowns for smaller civil ceremonies. It's also been made accessible to many brides.
"The White Collection was created in response to a need for something a little alternative to a wedding dress in the traditional sense. I was really interested in creating a bridal collection that has a modern and new feel."

Moralıoğlu said via the collection's show notes.
The Attention To Detail
"But there's still a formality to it. I thought, how modern would it be to have a cotton wedding dress, but it's embroidered in Italy with little guipure trims inserted in? I think when something's really beautifully designed, it has a permanence—it's something you keep and pass on to your daughter or someone else."

Moralıoğlu said to "Vogue"
The Collection
One of the most stand-out pieces of the collection, the Alphonse, is hand-embroidered with crystals on lace and features a high neckline and cap sleeves.
It's in these details that Erdem differentiates its bridal range from the rest of the bridal market. Erdem fans may even recognize this shirtdress silhouette from the Victorian gowns of his previous collections (in the below image).
Along with the dress, the White Collecting shoppers can also acquire headpieces, earrings, belts, and accessories that one may wear even past the big day.
Availability
The bridal collection has been launched a buy-now range. The dresses will be sold all year-round online at erdem.com. One may also shop the collection at Erdem's flagship store in London's Mayfair.