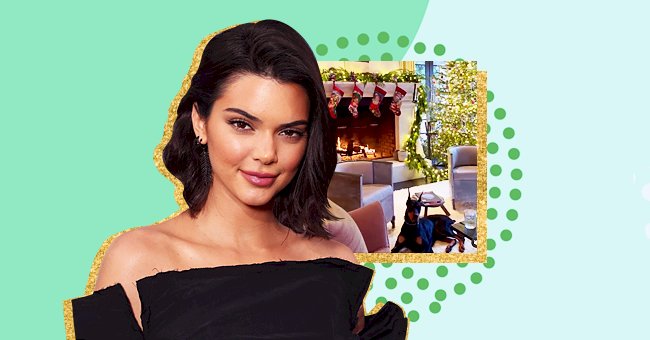 A Glimpse Into Kendall Jenner's 2020 Christmas Decorations On Her Instagram
Kendall Jenner took to her Instagram account and gave us a glimpse into her classic and traditional Christmas Decorations.
Kendall Jenner is known for her classy and elegant style. She is also the only one from her family who doesn't have any kids yet. But she does have a taste for all the great stuff.
Jenner lives alone in her home in Beverly Hills. Like her family, she also seems fond of the holiday season, and she has her unique way of celebrating it.
Kendall's 2020 Christmas Decor
Kendall is known for keeping things simplistic yet classy. The Calvin Klein Model is preparing for the festive season, and she shared her holiday decor on her Instagram account.
Jenner posted a picture of her Christmas-ready living room. The Christmas tree, Santa Claus, red stockings, and a garland were among the decor's highlights. Traditional white lights had lit the room, which gave a cozy feeling.
Jenner's puppy was also a part of the image and little video-clip she shared from the Christmas decor. She kept her decoration traditional and straightforward, with no extra shenanigans.
Kendall is a fan of keeping things small and sweet, unlike her family, who like to make it huge on Christmas. Her simple holiday decor got a lot of attention from her fans, who loved every bit of it.
Kendal's Christmas Decor 2019
Kendal's holiday decor in 2019 involved a reindeer and a Christmas tree covered in white lights. She shared a short video-clip back in December last year and gave fans a sneak-peek into her Christmas decorations.
Jenner opted for a simple decor even last Christmas, and that indeed says a lot about her love for traditional festivity. We support her preference for simplicity.
Kardashians Cancel Christmas Party
The famous Kardashians have decided to keep things low-key this Christmas. They will not be having a grand party as always because of the pandemic.
Khloe responded to a fan on Twitter and said that the annual Kardashian Christmas party would not occur this year. She also said that this was the first time that they had to cancel the party plans.
"The Covid cases are getting out of control in CA. So we decided that we're not doing a Christmas Eve party this year. It's the first time we will not be having a Christmas Eve party since 1978, I believe. Health and safety first though! Taking this pandemic seriously is a must."

she added
The Kardashians are known for extravagant Christmas parties, but they have called things off because of the pandemic. Momager Kris Jenner hasn't shared Christmas details so far, but this image from last year is lovely.
We still have Kendall's Christmas decor to get hyped about because it sure looks fantastic.