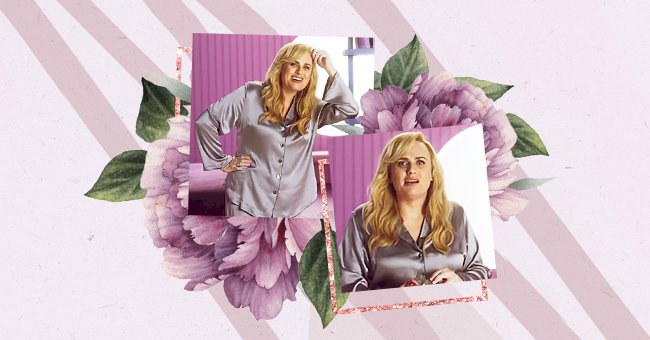 A Glimpse Into Rebel Wilson's Sleep Routine & Bedroom
From her surprisingly purple, quirky bedroom to her gorgeous silk pajamas, actor Rebel Wilson takes her rest seriously.
Getting sufficient and quality sleep is important and actor, and writer Rebel Wilson isn't cutting any corners when it comes to ensuring she gets perfect night's rest. The "Pitch Perfect" star does bedtime in ultimate style.
Earlier this year, the forty-one-year-old actor shared a photo inside her eccentric, all purple bedroom and her silk pajamas which got fans buzzing. Here's how a night of luxurious sleep looks for Wilson.
Preparing For Bed
The actor shared with "Glamor" some of the bedtime rituals she relies on to help her ease the inevitable jet-lag of her busy life.
She shared that one of her favorite things to have is a "bubble bath with bath salts and nice-smelling things." She uses these to help wind down and signal to her body that its sleep time.
She vouches for Dr. Teal's Pink Himalayan Mineral Soak ($6) and Dream Away Bath Salt ($20). She says these are the two she likes to travel with.
Night Apparel
A necessary part of the bedtime routine is the nightwear (for those who opt-in). Wilson has shared some posts of herself on social media in a luxurious set of silver pajamas.
However, she also has a stash of comfortable clothing that she says nobody will see her in. Included in this stash are her tracksuits from Victoria's Secret or Roots.
"It's just ultra comfortable. If somebody is staying over, I'll try to class it up."

Wilson told "Glamor."
Winding Down
Wilson, who is the ambassador for Olly, says she winds down with the Olly Sleep gummies ($14). She takes them about twenty minutes before hitting the hay, then watches some trashy reality TV just before she sleeps.
She also keeps a Voluspa candle on her nightstand in New York, along with some books that she says are just for "decoration."
To go with her pretty purple bedroom, Wilson has what she says is the "bougie-est purchase" in her house, which is a Hästens mattress "which can go for, like, 20 grand," she says.