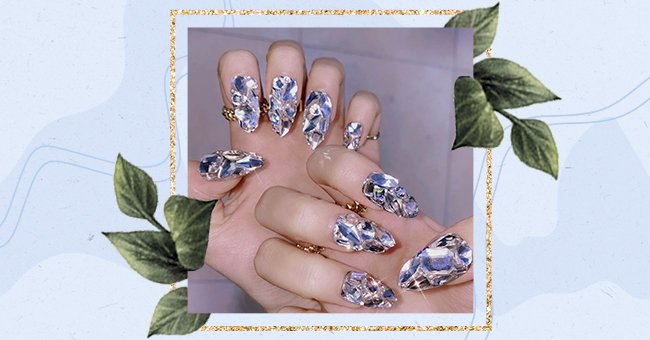 A Glimpse Into The Glass Tip Nail Trend
They come from Korea and are the latest manicure trend. Inspired by the effect of the sun on colored glass and the facets of precious stones, glass nails quickly conquered the internet.
Born in South Korea, the new technique soon landed in the United States and Europe, thanks to the web, which made it successful with the hashtag #glassnails, which is becoming popular on Instagram.
They are inspired by the decorated glass and the reflections they take on when hit by light, and the facets of precious stones. Glass nails are straightforward to reproduce.
The Birth Of Glass Nail Trend
In the world of manicures, there are more and more designs and techniques appearing. There are also some quite unreal projects, such as those with 3D applications or those making small representations of works of art.
This time, brought directly from Korea, glass nails arrive. Glass nails are positioned as this year's favorite trend. Ready to jump on this?
The technique uses small pieces of cellophane paper to create texture and shine on the nails. The result is a 3D effect that resembles the surface of a diamond.
The idea was developed in Seoul by the artist Park Eunkyung. Just a word of advice: apply a good layer of top coat so that the papers you have incorporated into the varnish hold well and shine even more!
How To Create Glass Nail Trend With Cellophane
After applying the nail polish, you need to stick small pieces of cellophane on the nail surface. They can be cut into thin strips, or shaped into irregular geometric shapes, to recreate the final 3D effect.
Cellophane sticks with the topcoat like tear-off foils. Before spreading it, place the cut pieces on the nail and position them with the help of a dotted tool (the manicure tool used to make polka dots) or with an orange stick.
Ideal Colors And More
The most popular colors? Dark ones, such as green, blue, plum, and black, but the result is guaranteed even with more subdued shades.
If manual skills are not your strong point, do not panic: there are already 3D effect stickers of many different shapes in specialized shops. Easier than that!
How To Create Glass Nails With Other Things
Of course, this is not real glass: there is no question of breaking all the cuts in the house to collect the pieces and stick them on your fingers. All you need to do is stick on small holographic, laminated papers if you don't want to use cellophane!
Cut the paper into small shapes you want and gently place them on your already varnished nails. Also, it's up to you to judge the correct number of pieces of paper that you want to include in your manicure: there are no rules for having super sexy hands; you choose! You can choose a rather discreet manicure but also select layered effects or patterns.