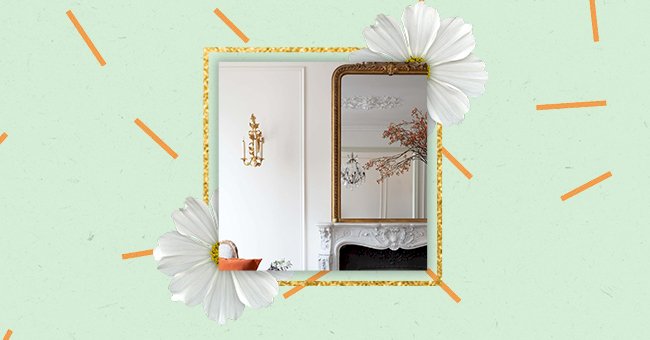 A Guide To Decorating Space Like A Chic French Girl
French people take their aesthetics seriously, so their interest in dressing, eating, and decorating their homes is a hot topic. It's all so effortless and chic. With this in mind, we are looking to these stylish denizens for inspiration for our interiors.
How is it that chic French girls have these impeccably undone spaces? Well, while the rooms and colors may look visually different, you should be happy to know that there is a type of formula behind it all.
If you are in the mood to makeover your space with this European aesthetic, don't confuse yourself with several Pinterest boards because we nailed the aesthetic down to a tee. Here is the ultimate guide to decorating your space like a French girl.
Oversize Gilded Mirror
Like French fashion ideology, there is an element of the undone in French decor. However, fashion-forward French homes often have a luxurious touch. Think gilded mirror of silk drapery.
The most popular choice we have seen are the huge ornate, gold mirrors. Most times, they are placed on the floor to showcase the undone look.
Antique Rug
Add a texture and rustic elegance to your space with an antique rug. Often, French home decor works with a subdued palette. Therefore, with fewer opportunities to add color, a large antique-looking Persian rug is preferred.
To give your house more of a lived-in feel like the French, layer your rugs with another. For example, you can layer your antique rug over a jute rug to copy the highly favored French country aesthetic.
Outdoor Chairs Inside
With French styles, you want to stick to the classic and not the trendy. This is why many homes of Insta-famous French girls often have outdoor chairs. These outdoor chairs resemble French bistro and rattan chairs that often provide seating at outdoor Parisian cafes. The result is a casual feel around your space.
Antique or Vintage Chandelier
The lighting situation in your house also gets a redo if you are on the path to French decor style. With many nonchalant and subdued elements within French interiors, another area of lavishness comes from, including statement antique-looking chandelier.
Moreover, small details like candles are often in places like candelabras to add a touch of elegance to your space. Place them around in a mismatched, devil may care way around on your bookshelf, by your plant/flowers, or by your fireplace for a hint of French Boheme.
Display Fresh Flowers or Wildflowers
On the topic of flowers, here is another incredible opportunity to add some color to your home. Use in-season flowers to arrange fresh bouquets in a vase or pitcher—the more fragrant, the better.
This tip is in the must-not-skip category because we often see French fashion girls with gorgeous flowers in their apartments. Another way to go about it is to opt for dried plants or wildflowers. Place your flowers on your rustic cabinets or table for a typical French look.
Layer Patterns and Fabrics
Now on to the fabrics. You may or may not have noticed that the chicest French homes often go for natural fabrics like cotton, linen, and wool. However, not that some of these fabrics can be a little high maintenance, so choose carefully. Go with muted tones such as greys, reds, blues, and greens.
Statement Velvet Sofa or Armchair Chaise Lounge
Choose a chaise lounge. No, seriously. We know it feels stereotypically French, but that's the beauty about it. Chaise lounges were extremely popular in the grand French houses in the early 19th century.
Today, they are still a popular choice amongst French girls. If not a chaise lounge, you will most likely see a velvet sofa. While houses are not overly trendy, the chairs tend to be as they add luxury and sophistication. Jewel tones like marigold yellow or forest green are the best place to start.
Undone Bookshelf
While a bookshelf stacked with books is enviable, the French still apply their undone aesthetic here are well. Make a DIY bookshelf out of books stacked on the floor or by your bedside.
If they are on bookshelves, remember the aesthetic is not to have it look like you tried. So, place them horizontally and vertically and mix in art, vases, and other odds and ends.
Behold the Armoire
French closets are not as space generous as American ones. Therefore, this tip comes in handy for those with small spaces. The French are fans of the armoire, a freestanding storage piece with drawers, shelves, and a hanging rod.