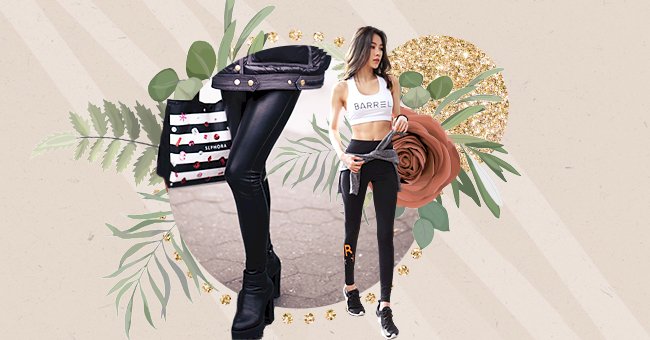 A Guide To Successfully Styling Leggings
Leggings are a wardrobe staple, and a cult favorite for nearly all seasons. Whether you wear them with your winter tunics and long boots or match them with a short-length hoodie to rein in the spring vibes, your full coverage tights can be styled in a variety of ways.
We were fond of pairing leggings with knee-length frocks and t-shirts as kids, and our affinity for these cozy fabric pieces is still the same. Sure, denim and statement tights look chic and trendy, but nothing can beat the timeless appeal of leggings.
Knowing how to style a legging beyond loungewear or workout can make a huge difference in your dressing choices. From faux leather leggings to stirrups, patterned, colored and footed variants, take a look at how to pair your leggings with everyday outfits.
Warm Coats & Jackets
Winter chill can be warded off with loads of layering, so you can put all your warm shirts to use and pair them with trench and fur coats. A fuzzy slouch beanie or beret can shield your hair from the snow, but ditch your denims for a pair of warm full-length leggings that you can tuck in your boots.
Another fun thing to try is wearing patterned leggings with your winter outfits. While the classic black, white and brown colors are safest options, aiming for something vibrant and unique can transform our look for the better.
Sweatshirts & Hoodies
The cold and frosty season isn't the only time to pull off your comfy tights, because we are so counting them in for spring and summer. Try opting for ankle-length options that require no tucking in because you will be switching up from boots to sneakers.
Cropped Tops & Sports Bra
Following through our exercise regime requires motivation, vigor but most importantly, feeling comfortable and light in your clothes. The majority of us are familiar with sports outfits, which are incomplete without comfy exercise leggings, knee-length being the popular style.
There are several brands like Spanx which pride themselves in designing cool and trendy leggings that we can lounge in all day. While you can wear them only when you channel your inner fitness fanatic, they are an excellent option for power runs and everyday clothing options.
Midi Dresses & Tunics
Faux leather leggings can bring in that instant spark and flame to make any outfit look bold and chic. They are best paired with classic midi dresses that cut right at your knee to amplify the overall appeal of your outfit.
Oversized Button Down Shirts & Sweaters
For those summertime outfit options, pair a button down shirt with body hugging fitted leggings. If you're tired of the same ankle-length options, choose stirrups or knee-length tights to keep you cool and comfy with that subtle style twist.
Similarly, you can also match long and short body sweaters with your favorite legging pair in the chilly weather. If you're picking a multi-colored patterned knitwear, keep your tights simple or choose patterned and animal print options with a simple classic sweater.