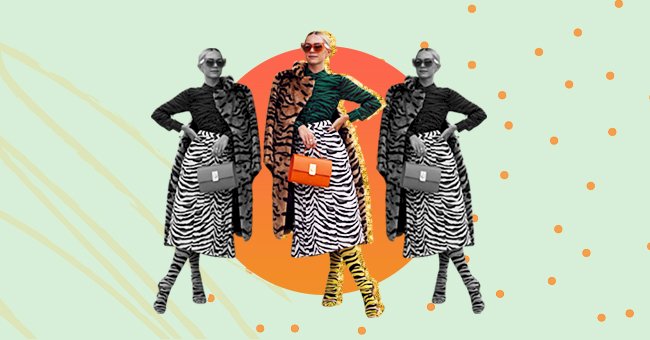 Navigating How To Style Statement Tights
It's time to expand your wardrobe with statement tights that come in exciting colors, patterns, and designs. So get your overcoats, skirt suits, designer dresses, and boots in line to style your tights the way you like.
When the weather gets cold and frosty, tights become an essential part of our attire. After all, nothing looks as trendy as donning your favorite patterned, printed, and classic tights and matching them with a variety of outfit choices.
There's no denying the splash of color and vibrancy a pair of statement tights can bring to your wardrobe, and we don't blame you for sharing in on the hype. Let's take a closer look at some of the chicest ways to style your statement tights. You know you want to.
1.Printed Dress
You can play with colors and match your printed dress with a pair of printed tights. The animal print is undoubtedly a bold and vibrant pick, and you can opt for classic tights or keep a consistent theme with a subtle choice of shoes.
Your chilly winter clothing can be paired perfectly with your tights. You can choose a skirt suit and pick an overcoat (fur coats are all the rage), to go with your favorite tights, and you're all set to make a fashion statement.
2.Playful Prints
Another way to rock your tights is to pick a bright-colored outfit. You can opt for classic, colorful tights and pair them with a patterned short body dress, preferably with a monochromatic color scheme or contrasting shades.
3.Pastel Shades & Coat
You can never run out of options to style your classic, colored tights. Fall and winter outfits can easily be paired with your pastel shade tights, and opting for heels rather than boots can be another exciting move to make.
While following the same color scheme is always a good idea, playing with colors can also be an exciting choice. Here, lavender tights have been matched with oatmeal shades (skirt and leopard print coat) to complete the look.
4.Leather Fabrics
Green tights appeal to the eye, and so do incredibly dusty and lime green shades. You can opt for trench coats to complement your outfit or make note-worthy choices, like picking leather jackets and boots, though pump shoes look cute too.
5.Sweater & Skirt
You cannot do without matching your comfy sweater with a statement tight, especially in winters. And again, you have the choice to pick either a classic tight (black would be a bold choice) or patterned options.
Matching pink or light-colored sweaters with printed skirts and patterned tights will make quite the style statement. Make sure you pick the perfect tights for the occasion (polka-dots and sheer dotted tights are very much trending).