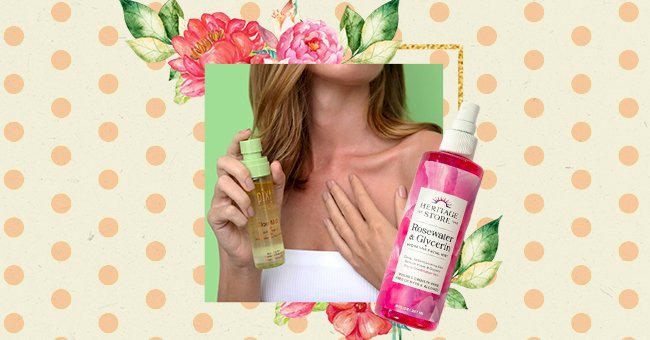 A Hydrating Face Mist For Every Skin Type
Face mists are the perfect hydrating product. They brighten the skin and reduce the appearance of acne, to mention a few. Therefore, if you have sensitive, oily or dry skin, it's time to consider using hydrating face mists.
They are more than just a gimmick. Over the years, face mists have transformed from bougie must-haves to skincare stars. With a few simple spritzes, your face will transform your skin from dull to juicy.
However, with many brands offering mists that promise results above and beyond, you may be wondering which to pick. We have compiled ten face mists that combine potent ingredients that deliver glowing results for every skin type, every time.
Rosewater & Glycerin Hydrating Facial Mist
Price: $10.89
We love this brand since it's super accessible, for you can find it in every drugstore. Also, it has glycerin which adds an extra moisture boost, especially for combination and dry skin. Use it in wintertime or the summer when dry patches rear their head.
What It Dew Makeup Refreshing Spray
Price: $29
This is the perfect lightweight face mist. It easily transforms your makeup from cakey to glowing with a few simple spritzes. Also, don't be afraid to use it during makeup application or throughout the day for extra hydration.
Kiehl's Cactus Flower & Tibetan Ginseng Hydrating Mist
Price: $22.99
The combination of cactus flower & Tibetan ginseng is powerful for it assists the skin in retaining essential moisture. Therefore, you can be guaranteed a fresh glow throughout the day. Also, you might always want to keep it close as it smells incredible.
Pixi by Petra Dream Mist
Price: $15
Who said face mists for the day only? This dream mist by Pixi is a fantastic product to incorporate into your nighttime routine. It has a combination of jasmine and lavender that hydrates the skin and can also be sprayed onto the pillow for added relaxation.
After Sun Soothing Aloe Mist
Price: $20
This will become your go-to after-sun product. This aloe mist is made of all-natural ingredients, including lavender oil and mint, to refresh irritated skin. Furthermore, it's best kept in the refrigerator to create the best cooling results after some fun in the sun.
Balancing Mist
Price: $17.50
We love this face mist for the five ingredients that provide mega hydration, each on its own. As the name suggests, the mist balances the skin's complexion while minimizing excess oil production. Furthermore, it also boosts collagen production due to the copper peptides.
Tatcha Luminous Dewy Skin Mist
Price: $48
This product is a fave among makeup artists. Not only is it super functional by providing the skin with needed hydration, but it's also great for all skin types. The options are endless as you can use it either during makeup application or on bare skin.
Hydrating Face Mist by Dr. Barbara Sturm
Price: $95
If your skin is showing signs of your hectic schedule, this mist will do the trick. It has hyaluronic acid, aloe vera, and detoxifying extracts that will protect your skin from free radicals while refreshing it. Also, it is versatile as it can be used as a toner in your beauty routine.
Blue Light Protection and Hydration Mist
Price: $58
If you find yourself spending tons of your time in front of a screen, you need this mist. It contains niacinamide, aloe leaf juice, and glycerine that keeps your skin hydrated while defending it from the harmful blue light from your phones and laptop.
SOS Save.Our.Skin Daily Rescue Facial Spray
Price: $28
Not only is this face mist affordable, but it's super versatile, for it works like magic on all skin types. With only three ingredients, this mist tackles skincare concerns such as redness, and uneven textures, and blemishes, to mention a few.