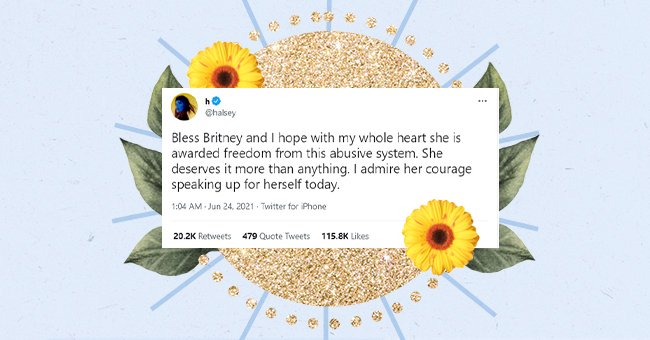 A Look At The Messages Of Support Celebs Shared For Britney Spears
When Britney Spears spoke out against her conservatorship, it felt like the world went silent. Everybody finally got to hear Britney's voice, and several of her peers couldn't help but show support.
Britney Spears' conservatorship's court hearing finally put what she was going through in perspective for us. The 39-year-old star revealed the exploitation and abuse she's suffered for thirteen years which shook everyone.
Soon after Britney made her statement, social media flooded with messages of support for the star. Read more to see the messages of support that celebrities shared for Britney Spears this week.
Mariah Carey
The iconic Mariah Carey was one of the first celebrities to send a message of support to Britney after her statement. Mariah encouraged Spears to stay strong through her battle and reminded her that we love her.
Halsey
Halsey also spoke out in support of Britney and detailed her admiration for the pop icon's courage. She also condemned the fact that Britney is forced to have an IUD by mentioning the control of her reproductive health.
Keke Palmer
Keke adopted her usual sense of humor in her message that showed support for Britney Spears. The actress shared a since-deleted Instagram post stating how happy she was for Spears and a hilarious tweet.
Brandy
Brandy is another star who grew up in the limelight and could empathize with Britney in some ways. Her message on Twitter offered love and support to the iconic pop star and her fanbase on Thursday.
Jesse Tyler Ferguson
The 'Modern Family' actor shared a message that has been on everyone's mind since Britney's statement. Jesse expressed that Britney deserved to reap the rewards of her work finally after all these years.
Justin Timberlake
Britney's ex-boyfriend shared a multi-tweet thread message in support of the star. Timberlake condemned the alleged abuse the conservatorship has allowed and sent love from his wife too.
Bella Thorne
Bella Thorne chimed in on Instagram and posed a series of rhetorical questions to emphasize Britney's struggle. She also urged Judge Penny to 'do the right thing' by letting Britney be free from the arrangement.
Missy Elliot
Missy Elliot shared her prayers for Britney Spears on Instagram along with the Free Britney hashtag. The award-winning rapper expressed that she wanted the star to gain control of her life and have peace and strength.
More Messages
Other stars who shared messages in support of Britney include Tinashe, Jonathan Van Ness, and Snooki. Khloé Kardashian, Rosie O'Donnell, Vera Wang, Sarah Jessica Parker, and many more also showed their support.