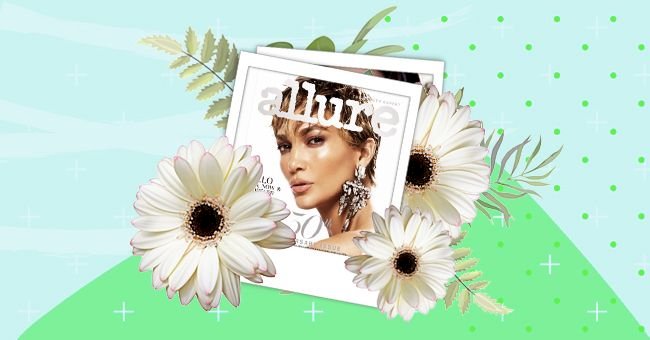 'Allure' Magazine Celebrates 30 Year Anniversary
Three decades ago, Allure Magazine launched, and the publication shifted beauty reporting forever. The magazine celebrates its thirtieth anniversary with an expected bang this year.
Journalism for beauty was a far-removed concept before Allure magazine stepped into the scene. The beauty focussed publication opened up a new way of exploring beauty-related content to the world.
Allure has been a pioneer in the beauty industry since 1991 and continues to explore the industry in unique ways. See how the beauty magazine celebrates three successful decades in journalism, beauty, and media industry.
The Glamourous Cover
Allure surprised fans with a fantastic cover story star for their thirtieth-anniversary celebration issue. The magazine, which has faced some backlash over the past year for lackluster covers, brings in the heat this month.
Allure's team placed superstar and beauty mogul Jennifer Lopez on the cover of this month's issue. The stunning star covers topics such as representation, quarantine, and how to rest after working non-stop.
J.Lo sports a wet look pixie cut and dewy yet glamorous makeup look to emphasize her beauty. Audiences can appreciate the ability to experiment with beauty elements like hairstyling from this cover.
Jennifer's unique look on the cover showcases the magazine's strides to showcase the potential of beauty. Allure's J.Lo cover certainly presents us with the magical work of beauty professionals too.
Looking Back At The Influence
There's no denying that Allure has had a significant impact on beauty coverage over the past thirty years. The beauty industry was nothing more than a behind-the-scenes element to fashion before Allure.
In this issue, the magazine playfully reminds readers that they pioneered journalism for beauty back in 1991. Allure editors collaborate on an anniversary piece that presents the most iconic stories from the publication.
The magazine's best stories explored controversial, intriguing, and some courageous topics in beauty. Editors covered everything from glamorizing mental illness in beauty to exclusive interviews with celeb makeup artists.
Allure also works on encouraging innovation, inclusivity, and sustainability in the industry. This manifests through their ''Best Of Beauty Awards', highlighting impressive beauty professionals, brands, and products.
Conversation Starters
People look at beauty and cosmetics differently depending on how they are exposed to them. Allure offers the regular person resources to critically engage with beauty in ways that we hadn't seen often until now.
The magazine is unafraid to cover uncomfortable topics that affect the industry and society as a whole. Allure has delved in deep regarding race issues, cosmetic surgery, disability representation, and more.
Essays from stars, experts, and intellectuals often share their perspectives with readers as well. The culture of collaboration at Allure allows for an open conversation about the actual impacts of beauty.
Because of Allure, we can engage with this industry is much more complex ways. Cheers to thirty years of exclusives, exposes, essays, dialogues, funky covers, hair, and makeup tips courtesy of Allure.