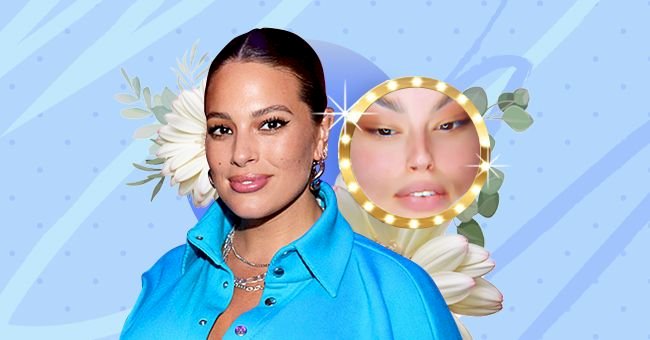 Ashley Graham Gets Up Close & Personal To Reveal Her Skin Under A Magnifying Glass
Supermodel Ashley Graham paid a visit to the facialist and shared a super close-up video clip of her skin and added a little light-heartedness.
This past weekend, Ashley Graham took to Instagram to show her followers what her skin looks like underneath a magnifying glass.
Here message around being comfortable in your skin has been consistent— the thirty-three-year-old who recently also had a baby and has been working to break stigmas around post-baby bodies.
Graham's Instagram Post
Graham shared the video on her stories and her feed. She captioned the extreme-closeup post with the star-eyed emoji. She ended the video in a burst of light-heartedness with an evil laugh.
"This isn't a filter. It's a magnifying glass."

Grahams says in the video.
Reactions
Her bit of humor was well received by Instagrammers who proceeded to flood the comment section with laughing face emojis and hearts.
"We all need this Ashley magnifying glass + lol voice filter now ??????"

One Instagram user commented.
Mzia Shiman Reposted
Mzia Shiman also shared Graham's video on her Instagram, showing her some love. Shiman captioned the post, "I wish I could express to you how much I love her!" To which Graham showed love right back.
"YOU ARE THE BEST MZIA!!!!!?"

Graham commented.
How Graham Gets Her Skin To Look So Good
Graham, who's recently revealed some of her hair loss and acne woes post-partum, has shared what's been working for her breakouts.
"My whole hairline fell out four months postpartum, so that was a shock to my system. Then I got back acne, and I was like, what is happening? So, I reached out to all my mommy friends. They're like, oh yeah, it's so typical. I just started adding a little bit of retinol here and there. So, my skin has changed, and I'm working on reducing the redness."

Graham shared.
Post-Partum
After giving birth to her son in January, she's expanded her body-positivity mission. Graham has been candid about her journey post-partum, reminding mothers that they're amazing.
This hasn't only been a post-baby mission, though as she's been open about her pregnancy, documenting with her husband, Justin Ervin, on Instagram.