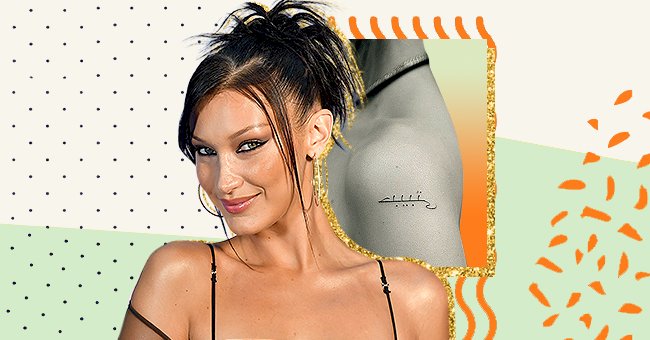 Bella Hadid Shows Off New Arabic Tattoos
Bella Hadid's new tattoos may be an ode to Arab women, and we love everything about them. The half Palestinian supermodel is proud of her culture and expresses her pride every chance she gets.
Bella Hadid is one of the most successful models globally, and she can thank her rich background for that. Her attractive features are the product of her Dutch and Palestinian genes that she often celebrates.
The Victoria's Secret angel expresses herself on the runway, in editorials, and through her tiny tattoos. See how the supermodel continues to profess her Palestinian pride through the new ink on her shoulders.
Hadid's Palestinian Background
Bella Hadid's father, Mohamed Hadid, came to America as a refugee from Palestine when he was only a baby. Although Hadid practically grew up in the United States, his cultural identity never faltered.
"My dad, he's so passionate about it, and that's what kept me very passionate and excited about my roots."

Says Bella Hadid
In a Harper's Bazaar Arabia interview, Bella cites her father as the main reason she is so in touch with her roots. She reveals that she and her siblings celebrated all cultural rituals and holidays, including Ramadan.
The stunning supermodel also professed her love for Arab women in the same interview. Bella shared that her relatives, including her aunts and grandmother, inspired her to be a strong and beautiful woman.
I Love You, My Love
Bella's new Arabic script tattoos are the largest she's had inked on her body yet. The twin shoulder tattoos translate to 'I love you' and 'my love/sweetheart' in Arabic, which is the perfect nod to her heritage.
One Instagram user noted that the script addresses a woman. Although Bella nor Dr. Woo elaborated on the meanings, these tattoos could be another expression of her love for Arab women and her Arab background.
Bella's Other Tiny Tattoos
Like many of her other supermodel friends, Bella has other mini tattoos scattered all over her body. Famous New York tattoo artist JonBoy shared an image of a tiny rose he inked on Bella in 2017.
The supermodel also got a tiny angel wing tattooed near her ankle in the same year by the same artist. Fans concluded that her small angel wing referenced her time as a Victoria's Secret Angel.
Bella was in good hands with both her tattoo artists, whose passion for their work attracts VIP clients. JonBoy has had clients such as Kendall Jenner, Hailey Bieber, and Justin Bieber in his chair.
Dr. Woo shared that he wanted his work to inspire people to do and be whatever they wanted. He also revealed that he finds inspiration in industries such as architecture and culinary for his craft, making his work unique and refreshing.