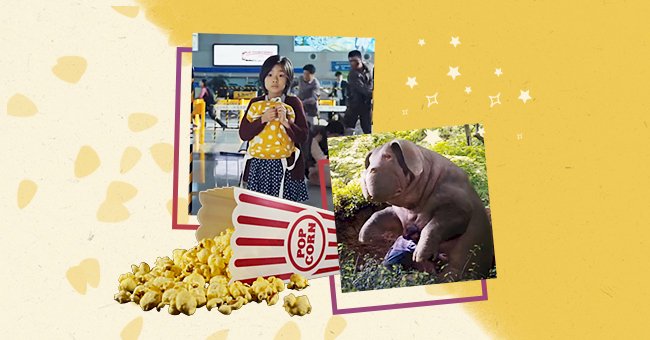 Best Korean Films To Stream On Netflix
We believe in planning, especially when it comes to a binge-watching session over the weekend. If you love K-dramas but want to temporarily put reruns of "Oppa" aside, try out Korean films.
Besides, if you are in a super non-committal mood and series are just not cutting it, movies are great as they only last a couple of hours. Moreso, Korean films pack an emotional punch. They effortlessly manage to give you laughter, tears, and suspense.
Now that you have made the conscious decision to glue yourself on the sofa, we advise you to get some popcorn ahead of time. Giving you action, thriller, and even some romance, here are the best Korean films to stream on Netflix.
Okja (2017)
From the mind of critically acclaimed director, Bong Joon Ho comes a story like no other. With no spoilers, here's the plotline. The movie centers around a super pig raised in the South Korean countryside by a young girl named Mija.
We know, wild. After Mija develops a close bond with the pig, it's ripped from her care by a giant food conglomerate. Relentless, Mija sets on a journey to New York City to save her pig while exposing the conglomerate's evil doings. Bonus? Tilda Swinton is a delight in this.
Train To Busan (2016)
This film made headlines in 2016 for a good reason. Shot almost entirely on a train, the movie follows the journey of a busy father and daughter. The pair board a train to fulfill the daughter's birthday wish of seeing her mother in Busan.
However, a zombie apocalypse hits Korea, and little do they pair know an infected person is aboard the train. Nail-biting suspense ensues as the pair struggle to make it to Busan along with the other passengers trying to survive.
#Alive (2020)
Korea is on a zombie genre roll with this highly-ranked film on Netflix, right after its release. We believe there is no such thing as too many survival films, so here it goes. #Alive follows Oh Joon-woo, a gamer stuck in his apartment during a zombie apocalypse.
However, he finds another survivor Yoo Bin in a nearby apartment. The two try to coordinate their brave escape and fight off their zombie neighbors, all while wireless networks and phone service is cut off. Will they ever make it? Watch to find out.
The Call (2020)
If you love the concept of time travel, this movie is just for you. It follows two girls, Oh Young Sook and Seo Yeon, who are connected by the same phone, 20 years apart, in the same house. The calls at first seem useful. However, the movie quickly takes a dark turn.
However, Oh Young Sook turns out to be a serial killer who uses information from the future to commit a series of murders without getting caught. This psychological thriller will have you questioning the consequences of changing your reality.
Burning (2018)
Burning is based on the critically acclaimed short story Barn Burning by lauded Japanese author Haruki Murakami. The psychological mystery follows Jong Soo, who reconnects with his childhood friend Haemi.
When Haemi returns from a trip linked in the arms with a mysteriously wealthy businessman, Ben, Jong Soo is crestfallen. The movie then takes a dark spin when Jong Soo learns of Ben's hobby. Coated with suspense, Burning will leave you on the edge of your seat.
Tune In For Love (2019)
Put the psychological thrillers aside and warm your heart with this emotional love story. Follow the journey of Mi Su and Hyeon Woo, who first met as teenagers in 1994. While life passes them by, so does time, and the pair is faced with obstacles keeping them apart.
Always trying to find ways to reunite, the pair finally rekindles their love ten years later. However, above them is a cloud of secrets one of them holds that could destroy the entire relationship forever. Will the pair survive? Watch to find out.
High Society (2019)
What are you willing to do to get to the top? This film will give you a cinematic spin into what a married couple is willing to do to enter high society. We follow the life of the middle-class couple Jang Tae Ju, a university professor, and Oh Su Yeon, an art gallery curator.
The pair try to achieve their professional goals while attempting to gain access to high society. However, the couple is willing to do anything to get there. All we can say is grab your popcorn because things are about to get interesting.