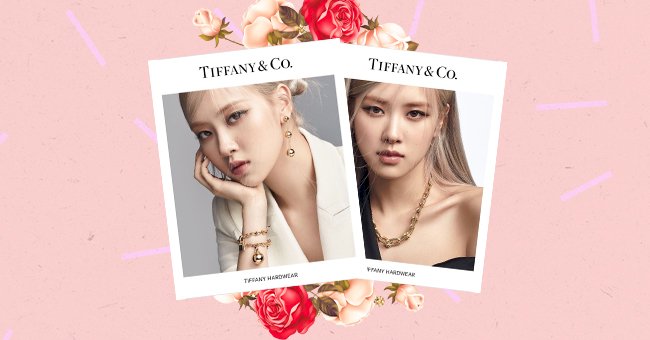 Blackpink's Rosé Named New Tiffany & Co. Global Ambassador
From a long-time fan of Tiffany to a global ambassador, Rosé is having her full-circle moment as she expresses her excitement at working with the iconic brand.
There's much to celebrate for the member of the Korean girl group Blackpink who recently released a record-breaking first solo album just last month. Now, American luxury jewelry brand Tiffany & Co. has announced Rosé as their global ambassador.
It comes as no surprise as the four members of Blackpink has all firmly asserted themselves as style powerhouses to watch. In fact, all four are representatives of luxury brands. But also, Rosé has been a fan of the brand for years.
Rosé For Tiffany & Co.
The announcement made on April 21 puts the twenty-four-year-old on a list including notable names included as faces to the "HardWear" digital campaign. Rosé joins the likes of Lupita Nyong'o, Elle Fanning, and Jackson Yee.
As part of Tiffany's latest campaign for the collection, the singer wears an 18-karat gold link necklace from the line. The design for this piece was inspired by a 1971 bracelet from the Tiffany archive.
In more archival-inspired pieces, additional youthful, bold designs will be premiering on Friday, April 23, with the new ambassador as muse.
Rosé's Full Circle Moment
As a long-time lover of Tiffany jewelry, the Melbourne-raised singer recalls how she used to wear Tiffany back in high school.
"To be a part of such an iconic brand that has been a part of my life for a long time makes it that much more special to me. I'm very honored and excited."

Rosé said to "Teen Vogue."
She goes on to reminisce of her personal style icon growing up; her mother. Along with her chic blazer and pencil skirt, Rosé says she admires her mother for the way she was responsible, respectful, and kind to people.
Busy Times For Rosé
Coming fresh off the release of her album title "R," and still basking in the light of becoming the best-selling album by a Korean female solo artist before the album even dropped, Rose appears to be having a noteworthy 2021 so far.
No stranger to collaborations with big brands, last year, Rosé was named the global face of Saint Laurent. The trajectory for this Rosé is looking up and up.