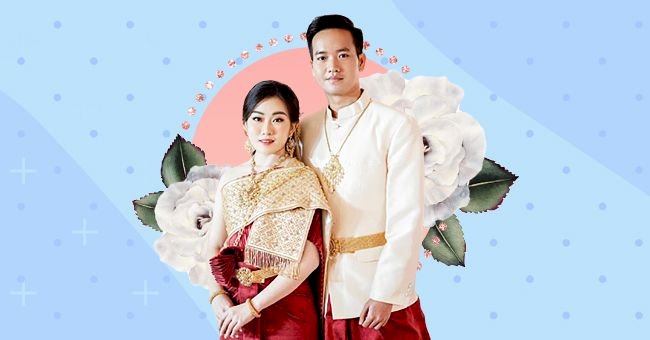 Bridal Dresses From Around The World
Regardless of differences in cultures and traditions, weddings are given utmost importance around the world. Whether it's the classic white bridal gown from the West or intricate ensembles featuring embroidery work from the East, bridal attires come in all colors and designs.
It's fascinating to have a look at the rich traditional weddings that take place in various parts of the world. While we have all seen simple gowns and floral lace pieces quite often, you'd be baffled to know about the bridal dresses worn in different regions.
In China, red bridal wear is pretty common, whereas in Pakistan and India, red and pink ensembles are given more preference for the main event. Here: we take a look at how bridal attires differ across the world, and how they are impacted by cultural and traditional aspects.
1.Malaysian Kebaya
Malaysian kebayas are white flowing ensembles that resemble the classic white bridal gown from the West.
2.Thai Ensemble
Traditional Thai wedding dress, called chut thai, looks somewhat similar to a traditional saari worn by the Indians.
3.Ghanaian Kente
Brides in Ghana don the Ghanaian wedding dress called kente, which consists of rich patterned fabric designs.
4.Pakistani Kameez Lehanga
Pakistani brides wear a traditional red lehanga (a full length embellished skirt) with a kameez (a short body embroidered top), with a dupatta or draping fabric cloth.
5.Chinese Qun Gua
Chinese weddings include a mandatory tea ceremony, and brides wear a traditional, two-piece red dress with a headpiece.
6.African Beadwork Attire
Beaded jewelry and clothing is considered very important in Africa, and that's why Zulu women opt for the traditional beadwork dress for their wedding.
7.Fijian Masi
Fijian brides wear the traditional wedding dress called masi, which is prepared from the bark of the paper mulberry tree.
8.Korean Hanbok
Korean bridal dress is called a hanbok, which is a flowing silken wear fabric and considered a part of the rich Korean tradition.
9.Cambodian Ensemble
Cambodian brides wear traditional, embellished attires on their big day, which features light and subtle colors like pink, with a hint of golden hues.
10.Japanese Kimono
Japanese brides wear a kimono, a traditional and full length garment that resembles a robe. This vintage robe is a part of their rich cultural heritage.