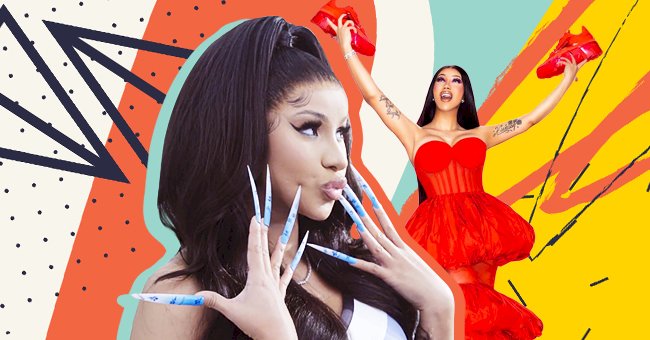 Cardi B's Reebok Collab Sparks Both Intrigue & Backlash
Move over Kanye West, there's a bright new sneaker collaborator in town, and she's coming in hot. Cardi B's latest project is not what we expected, but it makes so much sense now that we've seen it.
Cardi B has been on a steady high for over two years now, and things only seem to be getting better. The Press rapper recently announced her sneaker collaboration with Reebok, and fans are pumped.
Cardi's Club C collection is getting all the hype before its launch date, thanks to the star's followers. Let's explore more about Cardi's sneaker collaboration, the campaign, and the backlash it faced this week.
Big Birthday Announcement
Cardi B announced her first sneaker collaboration on October 11, which also happens to be her birthday. The 28-year-old superstar presented the fashion news to fans as a birthday gift to her loyal followers.
Real Reebok fans were able to secure a pair of these shoes early with their Reebok memberships. The platform sole shoes are available in red, white, and black colorways in children's and women's sizing.
WAP Inspired PR Packaging
It wouldn't be a Cardi B collaboration without something outrageous to catch our attention. Cardi shared an unboxing of her extravagant PR package on her Instagram and sounded just as in awe as we were.
This unboxing was a wild experience that featured a large golden 'B' package with a mouth shaped box. The unique tongue out expression package is inspired by the 'dangly thing' that Cardi raps about in WAP.
Footwear News Campaign
Cardi further promoted her new sneaker partnership with a cover story on Footwear News. The Hustlers actress opens up about her work on the shoe and her drive to keep pushing herself to do better.
Cardi opens up about her losses, being a mother and a hardworking woman in the interview. Her confidence and work ethic shine through in the interview as she poses with her brand new designs.
Goddess Durga Images Backlash
The Footwear News editorial was bold and beautiful, but some pictures did not impress most fans. Cardi poses as the Hindu Goddess Durga in some recently deleted images that caused major backlash.
"When I did the Reebok shoe, the creator was telling me that I was going to represent a goddess that represents strength, femininity, and liberation, and that's something that I love, but if people think I'm offending their culture or religion, I want to say I'm sorry"

Says Cardi B
Fans were not pleased with Cardi's depiction of a religious Goddess and saw this as disrespectful. The Bodak Yellow lyricist explained her intention behind using Goddess Durga symbolism in an apology on Instagram.