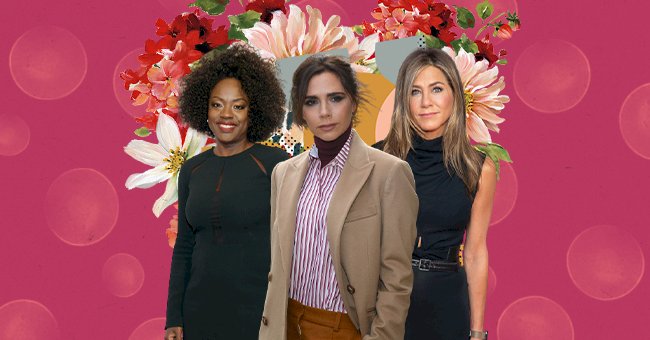 Celebs Reveal Their Favorite Skin-Care Products for Women Over 50
While nobody can defy aging, some of our favorite A-list celebrities have proven otherwise. From Jennifer Aniston and Victoria Beckham to Viola Davis, we've brought you the best Hollywood-approved holy-grail products to combat visible signs of aging and embrace eternal youthfulness.
Age is just a number, which couldn't be more true for the A-listers who are in their 40's but still look half their age. As we grow up, our skin begins to show sagginess, with prominent fine lines and wrinkles and decreased natural collagen levels.
Knowing how to choose the right product for your age and skin type is imperative to nailing your skin-care regime. Take a look at these celeb-endorsed skin-care products that are a must-have for women over their 40s and 50s.
Jennifer Aniston - Aveeno Positively Radiant Skin Brightening Exfoliating Face Scrub
At the age of 52, the Friends' star has smooth, radiant skin, and now we know the reason behind her youthful appearance. The Aveeno ambassador is fond of relying on affordable skin-care formulas, and Aveeno Face Scrub is her go-to product for a "dewy, glowing complexion."
Halle Berry - Olga Lorencin Ageless Facial In A Box
The 54-year-old Monster's Ball actress is often seen sharing fitness, health, and beauty advice on her IG account. She's a fan of Olga Lorencin's at-home facial, which is a transformative skin-care treatment that exfoliates, hydrates, and brightens the skin.
Drew Barrymore - Is Clinical Active Serum
The 43-year-old Mad Men actress relies on unique and one-of-a-kind skin-care formulas to appear young and beautiful. One glow-boosting elixir she swears by is the IS Clinical Active Serum, which helps reduce fine lines and wrinkles, and improves the complexion.
Tracee Ellis Ross - Vintner's Daughter Active Botanical Serum
The 48-year-old Black-ish star has her own hair care line for curly-haired folks called Pattern Beauty. She relies on Vintner's Daughter Active Botanical Serum, a botanical formula that reduces environmental stressors and promotes cellular renewal for healthy-looking skin.
Victoria Beckham - Augustinus Bader The Cream
The 46-year-old Posh Spice holds a bonafide status in the beauty, fashion, and hairstyle departments. She swears by Augustinus Bader The Cream, a powerful moisturizer that not only hydrates but soothes irritated skin and diminishes blemishes and dark spots.
Laura Dern - True Botanicals Pure Radiance Oil
The 54-year-old Academy Award winner relies on True Botanicals Pure Radiance Oil. It is a powerful anti-aging treatment that contains chia seed and kiwi seed oils and passion fruit oil, and papaya seed oil, which strengthen the skin barrier and boost the skin's natural radiance.
Angela Basset - Dr. Barbara Sturm Darker Skin Tones Cleanser
Basset teamed up with Dr. Barbara Sturm to create the skin-care brand that even caters to darker skin tones. This luxurious brand's foaming cleanser for darker skin is a hydrating formula that helps remove dirt, debris, makeup, and excess oil without over-drying.
Nicole Kidman - Neutrogena Rapid Wrinkle Repair Regenerating Cream
Nicole Kidman's trusted skin-care suggestion is the cult-favorite anti-wrinkle cream by Neutrogena. This wrinkle-fighting cream comes with retinol, which also helps improve skin complexion, firmness, and elasticity for a healthy, youthful appearance.
Viola Davis - L'Oréal Revitalift Derm Intensives Hyaluronic Acid Serum
55-year-old Davis is a fan of the L'oreal Revitalift Derm Intensives Hyaluronic Acid Serum. This anti-aging serum contains HA, a potent hydrator that strengthens the skin's barrier layer and retains moisture to make it appear plump and glowy.
Shonda Rimes - Fresh Black Tea Firming Overnight Mask
If you're a fan of all the Shondaland TV shows, then you're about to get inspired by 51-year-old Rhimes' skin-care routine. She's fond of turning to face masks to up her skin-care game, and her go-to product is the Black Tea Firming Mask by Fresh Beauty.