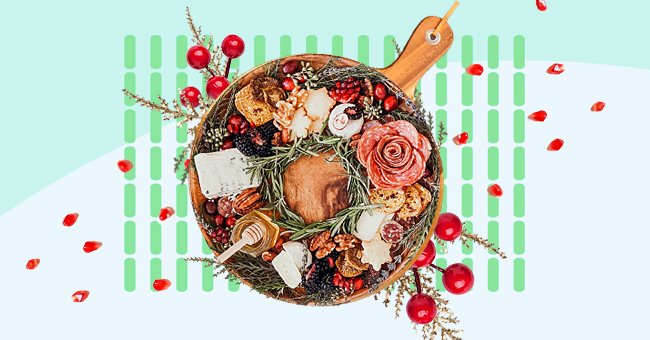 Charcuterie Wreath
No celebration is complete without a finger snack filled charcuterie board. Christmas is coming up, and there's a new festive way to prepare our favorite Instagram worthy snack boards for the day.
Charcuterie boards have been having their moment on social media lately. Many people turned to prepare the decedent grazing boards during the first lockdown, starting an online frenzy for all.
Christmas menus are important food menus of the year, so they need a suitable appetizer. This new variation on the classic charcuterie board takes finger snacks to a whole new festive level like never before.
Festive Charcuterie Wreaths
Christmas is just two days away, and those who have to prepare the food menus are in a panic. There is so much to think about when it comes to festive food items, including the party meals' presentation.
Charcuterie boards are one of the most convenient appetizer options that party hosts can turn to. Not only are they convenient and delicious, but they look tasty enough to display on any table and Instagram page.
Although charcuterie boards are versatile, Christmas tables do deserve something a little special on them. Thankfully, the internet is a wonderful place, filled with many ideas that make our lives easier.
Charcuterie wreaths are the newest charcuterie board trend, perfect for a Christmas table set up. These festive cheese and cold meat boards are decorated to look like a classic Christmas wreath, but edible.
How To Make A Charcuterie Wreath
Charcuterie trends usually spread like wildfire, so it isn't easy to track a new board trend's inventor. Modern Brie owner Cynthia Baysinger is often given credit for this trend after posting her wreath in November.
Baysinger's Holiday themed board was a hit online, prompting her to share charcuterie arranging tutorials. The Modern Brie Instagram page has plenty of essential tips for making this board special for the Holiday.
Charcuterie boards usually take trial and error, but it is always great to have a little help from the internet. Cynthia's tutorials even take things a step forward and teach viewers how to make cured meat flower designs.
Other Charcuterie Variations
If you have a few family members over for Christmas, you may want to exercise safety precautions. Although sharing food makes the family bond stronger, it can contribute to the spread of coronavirus.
Jarcuterie boards are the best single-serve option variation for COVID-friendly Christmas dinners. This popular charcuterie alternative looks just as appealing as a regular board by placing snacks in small jars.
Charcuterie chalets are also the next best thing for the holiday season. These small houses made of snacks are the ideal savory and more fancy adult alternative to the classic holiday gingerbread house.