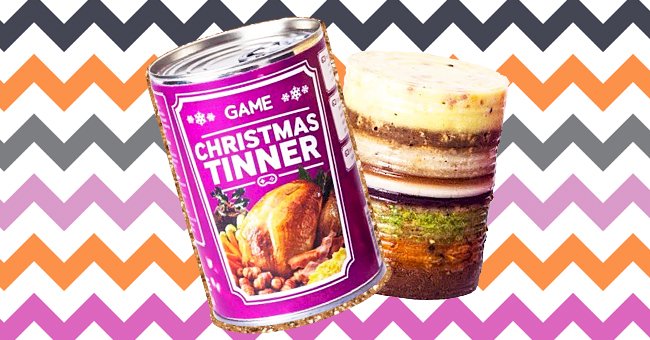 For Those Who Can't Cook: A Company Has Created A Full-Course Christmas Dinner in One Can
Are you looking to take the stress out of Christmas dinner? Well, this tech company is offering you, Christmas Tinner. This is not a drill.
There are high expectations as far as Christmas dinners go. Everyone is looking to have a variety – vegetables, turkey, gravy, sauces, and of course, Christmas dinner is incomplete without pudding. All of the preparations to meet these very high expectations takes so much time and effort.
Well, ain't nobody got time for dat. You can kiss tedious Christmas prep goodbye as we step into the future with Christmas Tinner. Welcome to the beginning of the end, kids.
Christmas Tinner
Tech retailer GAME released an affordable $2.64 Christmas dinner in a can in 2013 for hardcore gamers who spend their Christmas playing games online and don't want to leave their chair.
This year, GAME is giving consumers a choice. They're releasing a Christmas Tinner that includes a vegan and vegetarian take on the more Christmas classic dishes with a walloping twelve-layer plant-based dinner.
Inside The Tin
The vegan option includes chocolate cake with custard to start the layer, then vegan gravy, mushroom wellington, pigs in aubergine blankets, tofu and stuffing, as well as some winter vegetables like squash, carrots, sprouts and broccoli, red cabbage and parsnips, vegan cheese, olives and grapes, and vegan bacon.
The thought of this product, texturally, to begin with, is kind of horrific. Long hours of preparations over this any day if you ask me.
The Target Market
"It's the ultimate innovation for gamers across the nation who can't tear themselves away from their new consoles and games on Christmas Day — the first all-in-one festive feast in a tin."

Says The GAME spokesman.
The GAME spokesman says that nearly half of British gamers plan to spend most Christmas testing out new games and consoles. Hence this product is being introduced in response to consumer habits and is apparently quite popular in the UK.