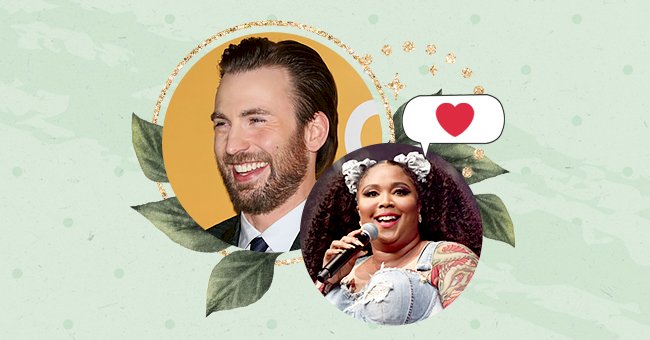 Chris Evans Responds To Lizzo's Flirty Drunk DM
We just took a DNA test, and it turns out we are 100% obsessed with Lizzo's liquid courage. The pop star recently shared her drunk DM shenanigans on her TikTok, and she shoots the perfect shots.
There are many reasons to be obsessed with pop musician Lizzo these days as she lets us into her world. The 32-year-old singer and flutist never fails to empower and entertain us on her social media pages.
Lizzo recently took a break from sharing her vegan recipes on TikTok to have a drink, or five. The result was a drunk DM to our favorite Chris (Evans, of course) and his response plus her reaction are priceless!
It Goes Down In The DM
In addition to being the queen of twerking while playing the flute, Lizzo is also apparently a fantastic flirt. Like many of us, Lizzo cannot resist Captain America's dreamy eyes, but she did something about it, unlike us.
The singer used TikTiok to document her romantic pursuit while lipsyncing to Tatayanna Mitchell's audio. She shared the DM, which features the gust of wind, female basketball player, and basketball emoji's.
"The reason I'm upset about this one is because I know I'm not going to be able to marry him. And honestly, it hurts me to the core because damn papa he a rare breed, no comparing! Like, Chris!!"

Says The Video's Audio
Although the play on emoji's was superb, Lizzo seemed to doubt her drunken decisions in the caption. The comedic yet strategic caption reads, 'Don't drink and DM, kids....for legal porpoises this is a joke.'
Chris's Response
As a follow-up to her first TikTok video, Lizzo shared another that showed off the response she got from Evans. Fortunately, she didn't faint as most of us would but cheered on at the perfectly sweet DM instead.
"No shame in a drunk DM [face-throwing-a-kiss emoji] god knows I've done worse on this app lol [facepalm emoji],"

Responds Chris Evan
Chris's message hilariously pokes fun at some of his DM mishaps, and we can't help but notice that kissy face emoji. The best part about this interaction is seeing that Chris Evans now follows Lizzo on Instagram!
Possible New Couple?
Both Lizzo and Chris Evans are currently single, so you never know if this exchange may spark romance. Although Lizzo was recently photographed with an unknown man, she made it clear she was single on Instagram.
Chris Evans was linked to actress Lily James last summer and hasn't been linked to anyone new since. Evans may also be the perfect pick since he doesn't have any ex-girlfriend drama per his Elle interview in 2017.
"I've had no bad breakups in my life. Typically, if I see an ex, I give a big hug, and it's wonderful to catch up. If you're ever fortunate enough to love someone and have them love you back, it's worth protecting that."

Says Chris Evans
If Chris's looks aren't enough to have you smitten, then his breakup philosophy should do the trick. We're sure this will have Lizzo feeling good as hell too. Now, where do we sign the petition to see them happily together?