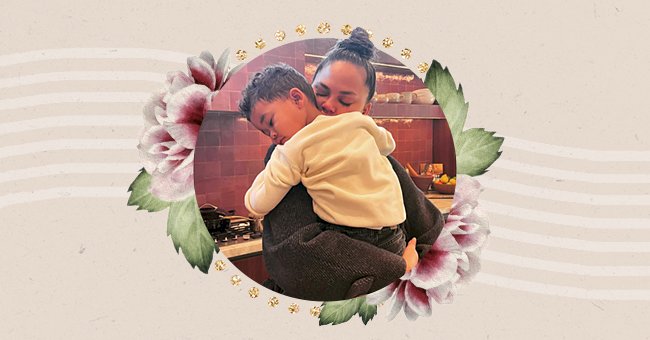 Chrissy Teigen Teaches Son Miles To Embrace Emotions
Chrissy Teigen, the wife of John Legend and a cookbook author, is raising her 2-year-old son Miles Theodore Stephens without conforming to gender norms. The model revealed that her 4-year-old daughter, Luna Simone Stephens, is also "a bit of a perfectionist" like her mother.
The 35-year-old Cravings author is teaching us all an important lesson in parenting 101. Mommy Teigen has taught her baby boy to accept his sentimental side rather than shying away from his feelings.
Chrissy Teigen and John Legend got married in 2013 and have two children - a boy and a girl. Her husband also supports her parenting ways and "is so good about showing" their children that "there's no right way to be a man."
Teigen As An Emotions Expert
The Lip Sync Battle host is schooling her son to embrace his touchy-feely side rather than masking his emotions. The mommy of two further shared that her kids must embrace their true nature, with her son understanding that it's okay to cry and feel.
"Miles is very emotional. He's a lot like me too. He wears his heart on his sleeve, and we embrace that. I think more men should embrace their emotions. I think that's really important in this world. That it's okay to cry, and it's okay to be upset about something or to be sad about something. We're going to talk it through and it's okay."

-said Teigen.
The superstar mommy appeared on People Magazine's The Beautiful Issue Cover this month, alongside her two kids. Teigen is often seen sharing glimpses from her personal life on Instagram, including pictures with her daughter and son.
Teigen's View-Point On Gender Norms
The 35-year-old model shared with People how she's raising her kids without adhering to the traditional gender norms, without a strict model on what a man should or should not look like in her household.
"There is no 'Be a man' in our house. There's no right way to be a man, and John is so good about showing them through how he treats me how to be a good man, how to be a good father. It's wonderful to see."

-added Teigen.
In an interview with Byrdie in 2020, Legend also shared his thoughts on the concepts of gender and masculinity. The All of Me singer revealed that he wanted to encourage people to embrace their best selves. He also pointed out how people limit their kids' potential "by so narrowly prescribing what their gender roles should be."
Like Daughter, Like Mommy
Teigen and Legend's elder daughter, Luna, is exactly like her mommy. The Lip Sync Battle host added that her 4-year-old girl "is a bit of a perfectionist" like her, and whenever she talks to her, she feels like she's talking to herself too. She's also an overly-attached mom who cannot picture her life without her family and kids.
"I'm an open, free spirit and I love kids to be kids. For us, kindness is such a big thing. When you meet our kids, they're very warm and friendly. You instill those things in them, but for the most part let them be creative and wondrous and spirited and curious beings."

-shared Teigen regarding her parenting approach.