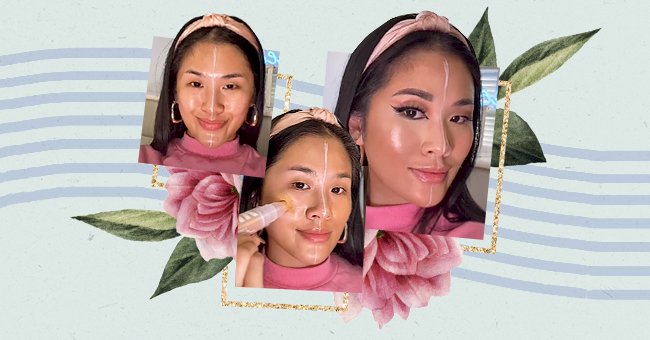 Current Viral TikTok Trend Compares 2016 Makeup With 2021 Makeup Trends
What we consider beautiful is constantly changing, which affects our makeup trends. TikTok is currently the largest platform to discover new trends, and recently it has been taking us back in time.
We don't realize how quickly time passes until it's too late, and TikTok has been making this evident lately. The video-sharing platform has been the best place to find the latest beauty and makeup trends for a year.
Recently, TikTok users have been highlighting makeup trends from 2016 and comparing them to now. Take a look at the current viral TikTok sensation that will show you how beauty can change in just five years.
What The 2016 Vs. 2021 Trend Entails
The 2010s were such a pivotal decade for beauty and makeup with the rise of Youtube and cosmetics. After years of plucking our eyebrows, drawing on a thin black liner, and applying one eyeshadow hue, things changed.
Many will cite the rise of the Kardashian's for how beauty changed over the last decade. Their glamorous smokey eye looks with bronzed skin, nude lips, and defined eyebrows influenced makeup for years.
By 2016 many women were applying their makeup in a certain perfectly contoured and bronzed way. As time went by, eyebrows became softer, contouring became lighter, and foundation coverage less flawless.
The latest TikTok trend compares the two makeup styles from now and 2016. Creators do one side of their face as they would in 2016 and then apply makeup as they would according to today's beauty trends.
The Biggest Differences Noticed From The Trend
We are all aware that a lot can change within five years, but we never really take the time to explore it. This side-by-side comparison of makeup trends makes what we already know incredibly evident.
As mentioned before, maximalist makeup looks were all the hype in 2016, which got a bit more minimal. Although the concept seems simple, there are a few techniques that made the changes pivotal.
One of the most recognizable characteristics of doing makeup today is the generous use of blush. In 2016, many makeup lovers would opt for no blush with their full coverage foundation and contoured looks.
Matte lipsticks have also sharply declined over the past five years, with more preference for glossy shades. Bold and colorful eye makeup looks a la NikkieTutorials have also been phased out recently.
Mindblowing Transformations
Makeup has been used as a tool to enhance features and experiment with beauty for centuries. The products can significantly change someone's appearance according to the techniques used.
While makeup in 2016 was full coverage and complex, it made users look more glamourous than ever. These days people have traded in glamour for a perfect skin-like finish and a facelift illusion.
In the side-by-side comparisons from TikTok, we see the difference that makeup has on people's faces. The two makeup techniques result in different face shapes, lip sizes, eye shapes, and face structures.
There are thousands of videos with tons of views that show these mind-blowing transformations. It's also fun watching techniques we used to love like the cut crease eyeshadow make a tiny comeback with the trend.