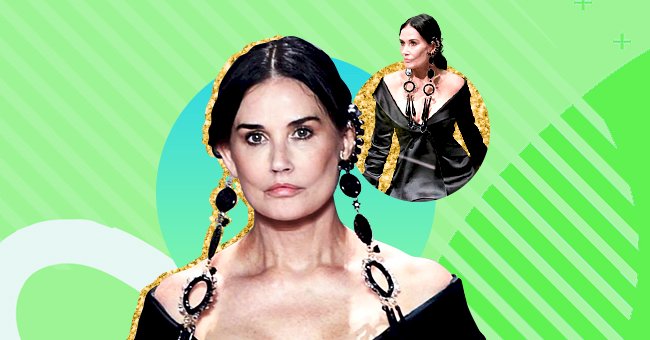 Demi Moore's Runway Portfolio Gets An Update At Paris Fashion Week
At 58 years-old, Demi Moore proves that it's never too late to follow your dreams. The stunning actress made an appearance unlike any other during a Paris Fashion Week Haute Couture show.
Demi Moore is one gorgeous woman and radiates confidence and sex appeal at 58 years old. As Paris Fashion Week rolled in, Moore was spotted in the city, and many speculated she'd be on a front-row seat.
To our surprise, Demi had a lot more than a front-row appearance up her sleeve. Take a look at how Demi Moore's runway portfolio got an upgrade during a Fendi Haute Couture show at Paris Fashion Week.
Demi's Runway Debut
Many would call Demi's recent runway cameo her catwalk debut, but the actress has been here before. Just a few months ago, Demi appeared in Rihanna's Savage X Fenty runway show in sexy lingerie.
The actress admitted that she was nervous about her lingerie runway appearance but killed it in the end. At 57 years old, Moore was one of the stand-out models for the every so seductive Savage X Fenty show.
Demi strutted her stuff for the Amazon Prime production among models such as Cara Delevigne and Bella Hadid. Although the Savage X Fenty show was technically her first runway, Demi did not walk.
In A Teenage Dream
Fashion lovers and fans everywhere were surprised to see Demi Moore open the latest Fendi show. The dark-haired beauty wore a sleek and silky black outfit accessorized with statement earrings and a clutch.
Moore confidently walked the Fendi runway for Kim Jones' debut couture collection for the fashion house. When sharing about the experience, Demi expressed that she was living out a childhood dream.
"Fulfilling a teenage dream... Thank you @mrkimjones for having me open the @Fendi SS21 show and congratulations on a beautiful and magical debut!"

Says Demi Moore
The actress walked the acclaimed runway with supermodels like Kate Moss and Naomi Campbell. Moore is a long time collaborator with Kim Jones, who is also the artistic director for menswear at Dior.
Mixed Reactions From Fans
Although we can all agree that Demi killed her debut catwalk, some were distracted by her appearance. The star's face looked as youthful as ever during the show, but her cheekbones looked noticeably higher.
Some took to Instagram comments to point out her changed appearance while others praised her looks. Either way, we think Demi looked stunning, and we hope this is one of many runway shows we'll see her in.