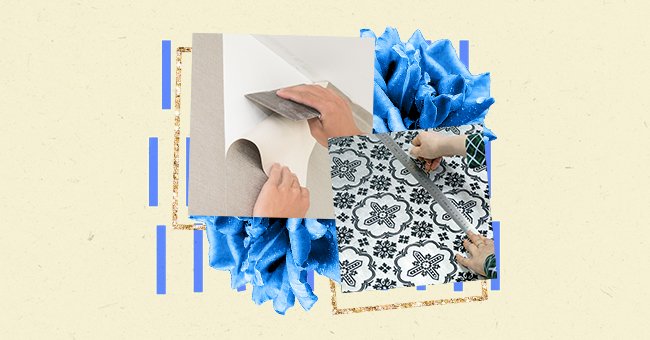 Different Ways To Use Wallpaper
When you want to make some creative changes around the house, wallpaper is your best option. They come in a great variety and can give your room quite the change! You don't even only have to put it up on the walls!
Wallpaper may seem like an old-fashioned concept when it comes to decorating a house. And it does require a little more effort than a fresh coat of paint.
But you can use wallpaper to change an entire room's perspective, and it doesn't even have to only go onto the walls! Here are different ways you can use wallpaper.
1. Cover Only One Wall
Instead of decorating all the walls, you can change up the room's look and put wallpaper on only one of the walls. When doing this, keep the other walls the same shade, and it'll give your home a unique theme!
2. Cover The Ceiling
Instead of painting your ceiling one boring color, you can use wallpaper instead! It can create the illusion of space in smaller rooms or even rooms where the ceiling is lower.
3. Cover The Inside Your Closet
If you're looking to upscale your closet and make it look a bit more vibrant, give a fresh coat of wallpaper! It can turn your boring closet into a space you'll love visiting!
4. Cover Tabletops
If spills have spoiled your tabletops over the years, you can easily cover it up with some wallpaper! It gives your furniture a bit of personality and can even help bring your room together!
5. Cover Half The Wall
If your walls are divided by crown moldings, you can channel vintage décor and cover half the wall. It's a classic home décor tip and keeps your room stylish!
6. Hang It As Art
If you feel your room needs a touch of art but can't afford it, use wallpaper! You can create artwork from your favorite wallpaper and bring a new look to your room without leaving a huge dent in your pocket!
7. Cover A Lampshade
Styling your lampshade can add flair to an otherwise dull room. You can use an adhesive to apply the wallpaper to the inside or outside of the lampshade and change up the whole room!
8. Revive Old Appliances And Trays
If you have appliances and trays that need a bit of sprucing up, channel your creative side and decoupage the items using wallpaper. It can easily turn an old dreary tray into something unique that perfectly suits your aesthetic!
9. Create A Wallpaper Backdrop
While summer is still in all its glory, use some wallpaper scraps and create a wallpaper backdrop for fun and unique pictures! It works well for weddings or even just to show off your photography skills!
10. Wrap Gifts With It
Wallpaper comes with unique prints that you don't regularly find on gift wrap. Using it as gift wrap is not only a great economic hack, but it also gives your gift a unique look your friends are bound to remember! So get to using that spare wallpaper to create unique looks around the house!