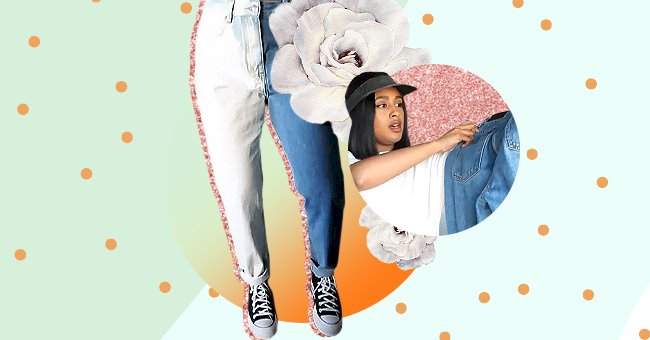 DIY: Create Custom Denims With These Easy Hacks
These DIY looks are not only extraordinarily trendy, but they're also easy to execute. You don't even need a sewing machine.
You've seen these chic looks all over the internet, but you don't know where to get those unique half-denim-half-trackie jeans you saw on Kylie or the cool half bleached jeans all over TikTok. You don't have a sewing machine, and your DIY skills leave much to be desired, so what now? Because you're seriously feeling those jeans that seem to keep popping up on your feeds.
Don't fret. These DIY denim makeovers are ridiculously simple to execute, and you don't need a sewing machine for any one of them. Not to mention how chuffed you're going to feel when you achieve the look.
Half Bleached Jeans
This trend went viral on TikTok, and you may have also seen it on Instagram. Well, the reason that this trend blew up isn't just because they look cool, but it's a straightforward look to achieve.
Using a combination of water and bleach, brush the solution on one side of your pants. Allow them to dry as they lighten. Once they're dry, chuck them in the wash, and that's that! Doesn't the two-tone effect look cool?
Bleached Jeans
If you have a pair of jeans that you just wish were a little bit lighter, then this is for you. You can lighten your jeans to your liking depending on how long you soak them in bleach.
You can watch the video to see exactly how not to mess this simple DIY project up and get awesome more tips on achieving the perfect result.
Pattern Bleached Jeans
For this transformation, you're going to need a sponge brush and bleach. Once you've got that, you're ready to rock n roll.
Dip the sponge into bleach and paint it on to your jeans in a swirled pattern (or any other design that tickles your fancy).
Patchwork Jeans
Do you happen to have a bunch of other bits and pieces of different fabric, maybe from other old bottoms lying around? If so, then try this eclectic look out.
Gather your bits and pieces in various colors and sew them all together to create these stand-out, amazing jeans.
Half-Jeans Half-Trackies
These pants may appear to be two-toned jeans, but they're half denim and half-track pants. Split the side seams of your jeans and then do the same to your track pants and combine the two.
Watch this helpful video above and simply adhere to the easy to follow steps to transform your pants into these cool pair of bottoms.