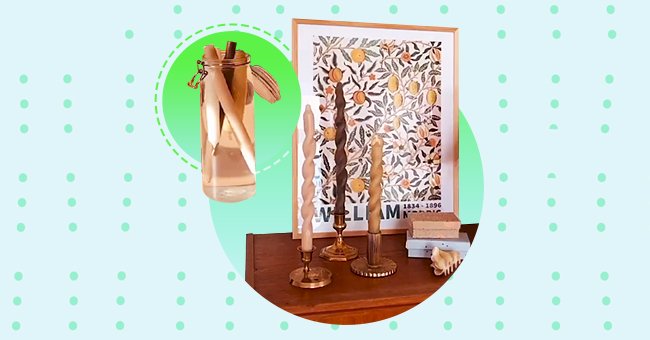 DIY Decor: Create The Trendy TikTok Twisted Candle
Candles are so much more than simple light or scent producing items these days. The wax light sticks have become a massive hit in home decor, especially since the twisted TikTok viral design.
If you own a smartphone, you've seen the trendy twisted candle everywhere by now. Instagram explore, Pinterest, and TikTok creators have all hopped onto the stylish and colorful decorative candle trend.
The unique candles may be fantastic additions to your home, but they retail at extremely high prices. Luckily, we've found some of the best DIY videos to achieve the spiral candle look at a much cheaper cost.
What You Need
One would look at these beautiful candles and conclude that the craftsmanship needs plenty of tools. Fortunately for us, it doesn't, and you probably won't even have to visit the store for this project.
You will need colorful dinner candles of your choice, which you may have to buy in-store. The rest is pretty simple; all you need are your hands, hot water, a jug, a rolling pin, or any rolling alternative.
The Interior Designer Approved Tutorial
Danish interior influencer Johanne Kohlmetz shared an Instagram reel detailing her candle process. The video has over 12000 likes and 944 000 views and caught interior designer Gustaf Westman's eye.
Kohlmetz's short reel showed her going through each candle spiraling step as the instructions appear on the screen. The video is not even two minutes long, proving how easy this DIY project is to achieve.
Johannes's process starts with her filling up a jug with hot water. She then puts her dinner candles in the pitcher, leaves them to soften at the high temperature for fifteen minutes, and then removes them.
Once taken out of the hot water, Johannes flattens the warm candles with her hands. If the candles are too hot to touch, this is where the rolling pin comes in handy. In the last step, she twists the candles, and voila!
DIY Candle Tips
Making these twisted candles is very easy, but it can go wrong if there is one misstep. Some tips from those who've tried it out include being careful not to flatten the candle too much during the second step.
Flattening the candle too much may result in candles that are too brittle when dry. A writer for Refinery29 tried the DIY project and ran into a few issues she kindly shared, so we don't make the same mistakes.
The first major issue she faced was her candles' color running after being put in hot water. This makes it essential that one checks that they buy candles that aren't just coated in colored wax.
The other significant issue she had was candles that wouldn't twist into the desired shape. This resulted from skipping the flattening step, so no matter how thin your candles are, remember to flatten them!