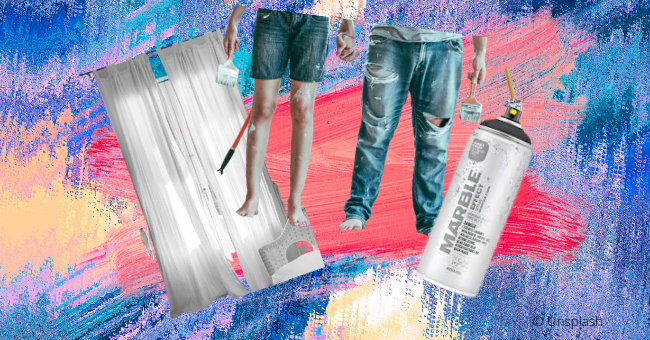 Viral TikTok DIY Decorating Hacks That Are Budget-Friendly & Stylish
Calling all bored crafters and DIY junkies, please grab your paint, glue gun, and yarn! It is time to DIY your dream home decor using these simple TikTok hacks.
From teaching us how to bake bread to fancams, TikTok has inspired all of us to delve into the unknown. However, I never expected it to suck me back into crafting and DIY.
But somehow, my 1 a.m. scrolling sent me freefalling into the redecorating side of the app. Needless to say, I have slowly started transforming my home one room at time. Here are some TikTok decorating hacks that are both stylish and budget-friendly.
1. Brush Stroke "Wallpaper"
Keep catching yourself staring at that giant empty wall in your house and sighing in distaste? Don't have the cash to invest in good quality wallpaper but still wishing you could get the look?
Take a leaf out of @tiktokeyedoc's book. Use simple paint streaks to create the illusion of expensive textured wallpaper. Not to mention, this is a genius way to use up leftover paint before it dries out in the tin.
2. Faux-Marble Dresser Top
Marble counter tops are the ultimate bougie touch. Unfortunately they're also extremely pricey and incredibly heavy for the average dresser.
So instead, @valenchita decided to achieve the look in a creative yet easy way. She grabbed some paint and invested in a can of Montana Marble Effect Spray Paint and we are honestly obsessed with the outcome!
3. Recycle Bedsheets Into Curtains
If you're like me, you are tired of seeing the same old curtains every day. However, you probably also a huge collection of bed sheets that you aren't using anymore but don't have the heart to path with them.
@myhouseof8 has the perfect solution to recycle your cute or fancy bed sheets that you aren't sleeping on but still keep around the house. She suggests making them into curtains!
4. Easy Art Work
Whether you're dripping paint onto a canvas and swirling it using a drill or smooshing paint onto a board like in the above TikTok, the app is on a mission to prove art is for everyone. So why not create effortless artworks to decorate your walls.
Find a video that speaks to your creative abilities and get started. Nothing completes a room more than an eye-catching piece of art and making it yourself is the ultimate brag!
5. Candle Jar Terrarium
Let's be honest, we all have a collection of empty candle jars and nothing to do with them. However, TikTok user @rinsette came up with a clever idea for plant-lovers.
She rinsed out her jar with boiling water filled it with moss and stones. The careful layers of moss and stone allowed her to create a mini indoor terrarium that blew viewers away!