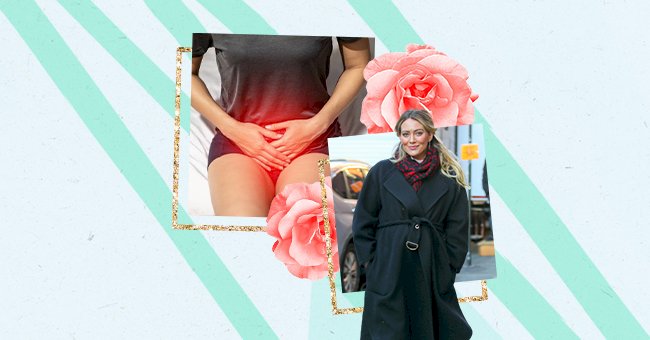 Doctor Explains Common Pregnancy Symptom Called 'Lightning Crotch' That Hilary Duff Is Experiencing  
What is lightning crotch, and have you been struck by it? This painful experience Hilary Duff and other moms have gone through during pregnancy explained.
Hilary Duff, former Lizzie McGuire star, is a soon-to-be mother of three. Nearly a pro in the birthing process, she notes that all pregnancies are different, but this one came with a huge unwelcomed surprise: Lightning Crotch.
Lightning Crotch is a painful and uncomfortable experience for moms. It's important to know when you should be concerned, so here is some more info.
What Is Lightning Crotch?
Lightning crotch is a sharp pain felt in the pelvis that moms like Hilary Duff describe as awful and struck by lightning. When the baby starts turning during the third trimester, it puts pressure on the pelvis, thereby causing pain.
Although these pains mean that the baby will come out soon, it could be pretty traumatic for moms going through these pains, because the labor can still be delayed for weeks! The baby moves around during this time and puts pressure on the cervix or the nerve endings around the pelvis.
Is It Serious?
There is no cause for concern as long as the pain occurs after 37 weeks of pregnancy and is not stopping you from everyday activities. If you experience other symptoms like leaking fluid, with pain you should go to the hospital as soon as possible as you may be in active labor.
It's a common thing for new moms to experience, and usually, these pains aren't a sign of distress or illness. The pain should pass, allowing you to continue with everyday activities. If it's taking a while to go, there are some things you can do to alleviate the pain.
1. Stay Active
Getting plenty of exercise during your pregnancy is crucial because it helps you stay comfortable and keeps your joints strong and flexible. You need the extra strength, especially for the added weight of carrying around your growing human!
Stretching, alongside cardio and weight-training, are good exercises to increase your hip mobility during pregnancy. Having good hip mobility is makes the labor process more manageable.
2. Some Much Deserved R&R
Women who do a lot of physical labor involving twisting, bending, or lifting, suffer from pelvic and lower back pain. This is not good during pregnancy, and the stress of physical work can put further pressure on the pelvis.
If your job is very demanding in the physical aspect, it will better to try and find a replacement, at least for your pregnancy duration. You deserve the rest and relaxation; after all, you're growing an entire human inside you!
3. Pregnancy Massage
Massage therapy helps relieve tense muscles causing pain. It also helps alleviate stress and anxiety levels during pregnancy, which is good for keeping the baby calm and stress-free and reducing swelling and joint pain.
4. Swimming
The weightless sensation of floating in the water can help alleviate the pain as it takes the pressure off you having to balance the baby's head on your cervix. The swim may even shift the baby's head off your cervix.
Swimming can also help alleviate swelling and strain on your joints from carrying the extra weight around. It is a good and safe exercise to take up during your entire pregnancy.
5. Wear A Pregnancy Brace
This cute yet weird contraption can help relieve you of some weight. It helps lift and support the belly taking the weight off your hips, pelvis, and cervix.
You can find the support brace on Amazon for $19,99. But if you'd rather spend an intimate moment with your partner, you could always have them stand behind you and help you lift your belly for a bit.