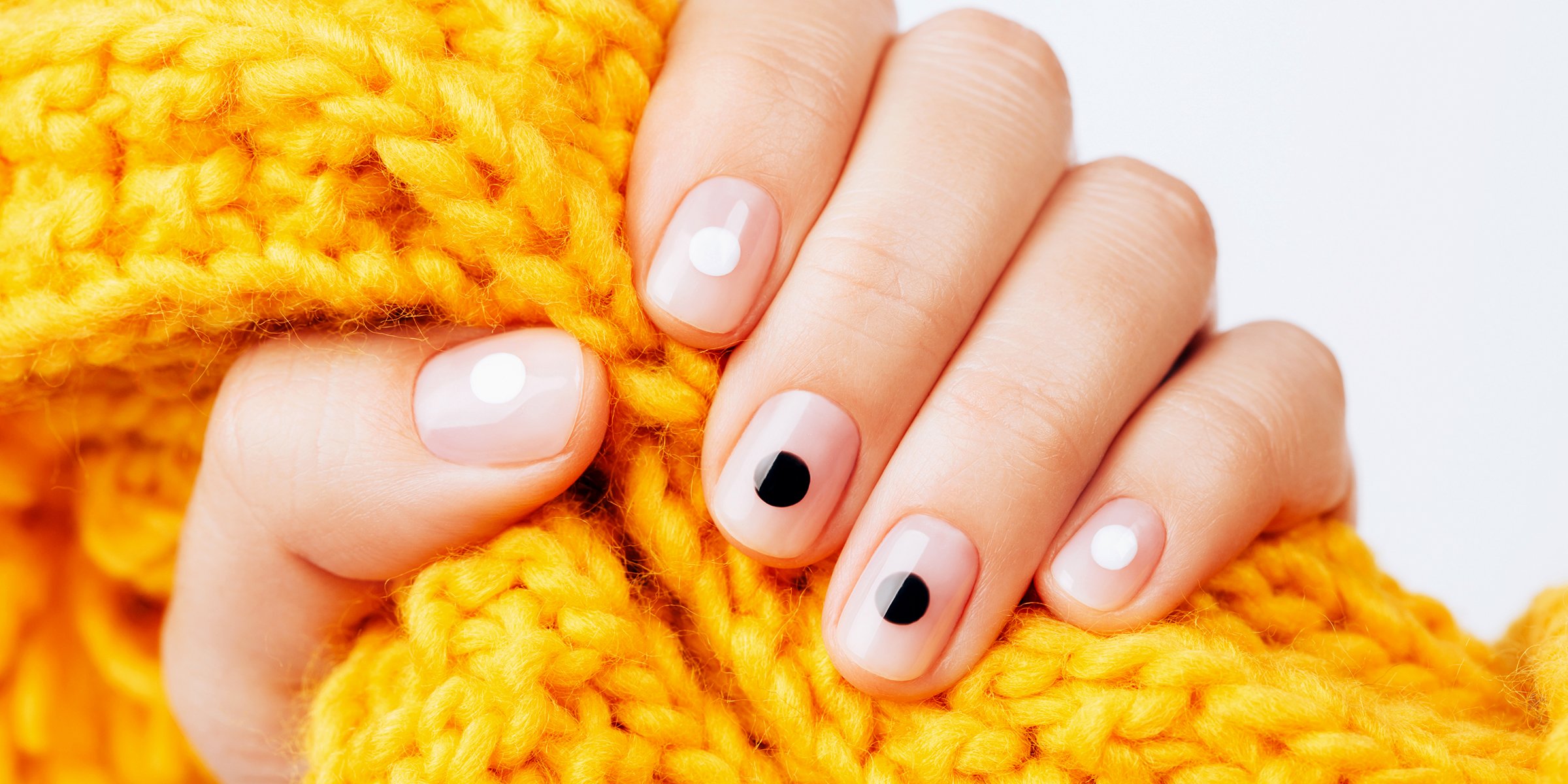 Black and white dotted minimalistic manicure | Source: Shutterstock
Elegant Minimalist Nails: Style Ideas and DIY Tutorial

While there are tons of nail art ideas on the internet, nothing beats having elegant minimalist nails if you love being simple. The minimalist manicure is precisely what many women have been looking for, as it looks natural, neat, and suitable for any occasion.
Minimalism in manicure combines the philosophy of restraint, cleanliness, simplicity, and elegance. These qualities have made it one of the most loved nail ideas.
If you're tired of excessive nail designs, it's time to turn your attention to the minimalist aesthetic. The best part about them is that you can achieve them with any color of nail polish you desire, and some you can do yourself.
What Is Minimalist Manicure?
Without a doubt, nail art conquered the world of beauty as it presented creative and modern choices for women. However, with time, more women wanted something simple, and the minimalist manicure added that touch of sophistication to any style.
Despite its sophistication, it is an understated type of manicure. It looks effortless but requires precision to be perfect. Due to its simple-looking aesthetic, some women believe it is boring.
However, there are different types of minimalist manicures on the spectrum, with some looking more complicated than others. They are perfect for any nail length and occasion.
This type of nail art is versatile and could vary from putting hearts and dots on your nails to upgrading your regular french manicure, creating negative spaces, opting for geometric patterns, and more.
How Can You Nail Your Own Minimalist Manicure?
The best part about settling for a minimalistic style manicure is that you can do it yourself at home. Some designs are simple to achieve with a few steps.
Remember that the perfect nail art is best on well-moisturized hands, beautiful cuticle lines, and clean and filed nails. The first step to creating your minimalist manicure is choosing your design.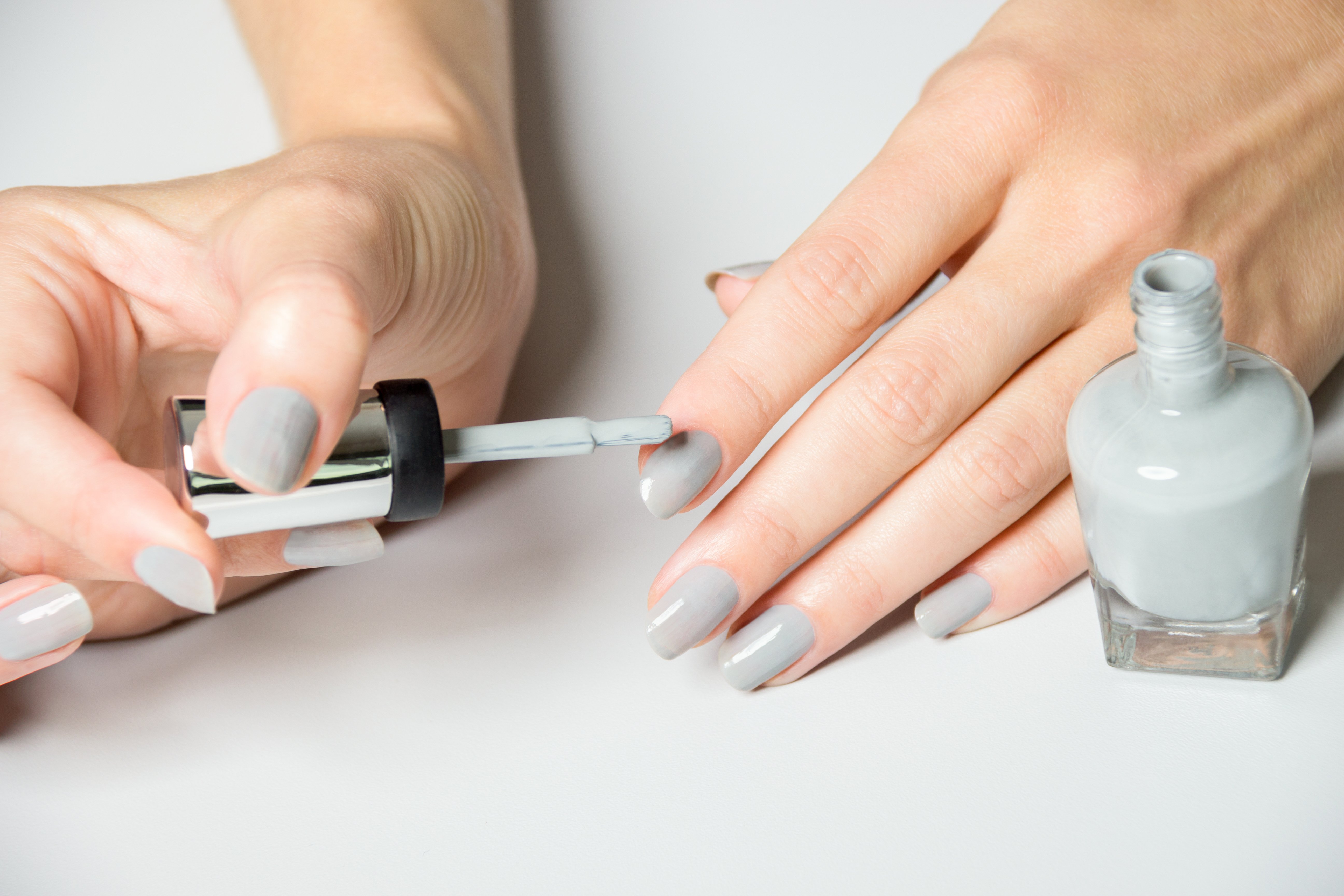 Woman painting her nails | Source: Getty Images
Once you've crossed that hurdle, apply a nail strengthener, which will also serve as a base. Once dry, use your favorite nail polish color and finish it with a top coat. Allow this to dry before you start designing.
With steady hands, proceed to the minimalist nail art of your choice! You can also decide to use supplies from the nail store if you cannot draw. Once satisfied with your selection, finish with another round of top coat and let it dry.
Examples of Minimalist Manicure Designs
One of the easiest ways to join the minimalist manicure trend is by starting with something as simple as gold-tipped nails. It is a chromatic variant of French nails.
To do this, paint your nails with your favorite polish and let them dry. Follow this with your preferred gold polish just across the fingertips and apply a top coat to your finished look when the gold polish is dry.
With the rise in popularity of "Squid Game" in 2021, nail artists began creating art with the geometric signs featured in the series, and people loved it.
Recreating this nail art is easy as you only need to know how to draw basic shapes like triangles, circles, and squares. Once you have outlined the figures, carefully fill in the inner part of the shape.
If you are unwilling to go through the stress of drawing, you can paint a dot on your bare or polished nails. Dotted nail art is the easiest way to amplify your classic manicure.
There are different ways you can finish this nail art. The placement and number of the dots you prefer will determine the final look.
There are two ways to achieve glitter and shimmery cuff nails. The first method involves using glitter polish around the cuticle to create your desired cuff before applying nail polish over the excesses.
With the second method, you first polish your nails, and when it is dry, you use a toothpick or fine nail brush to create the cuff using silver or gold glitter polish.
Getting the monochromatic gradient look right is as easy as it looks. This minimalistic nail design requires having different shades of nail polish in the same color to achieve a gradient.
The squiggly nail art is easier than it looks. To achieve this, you need a fine nail brush to aid your swirl drawing. Your final look can be simple, as the point of the design is to have fun.
You can do the curvy abstract, minimalist design with any nail polish color. It is a variant of the negative space nails. After your first preferred coat, use the nail polish brush to create curves on the nails with a contrasting polish color.
The double-corner outline nail design is simple for even a beginner to achieve. You can choose to do this on nude nails or modify your choice.
First, have your base polish set and use a fine brush to draw halfway through the top and bottom edges on the opposite sides. You should draw on the bottom left edge if you outline the top right edge.
The negative space nail art with neon polish is an edgy way to take your minimalist manicure to the next level. Negative space nail art is a simple yet eye-catching design showing your uncolored nail.
For this look, you can use one or different shades of neon polish over natural or naturally painted nails. It is the perfect way to show off your manicure, especially in the summer.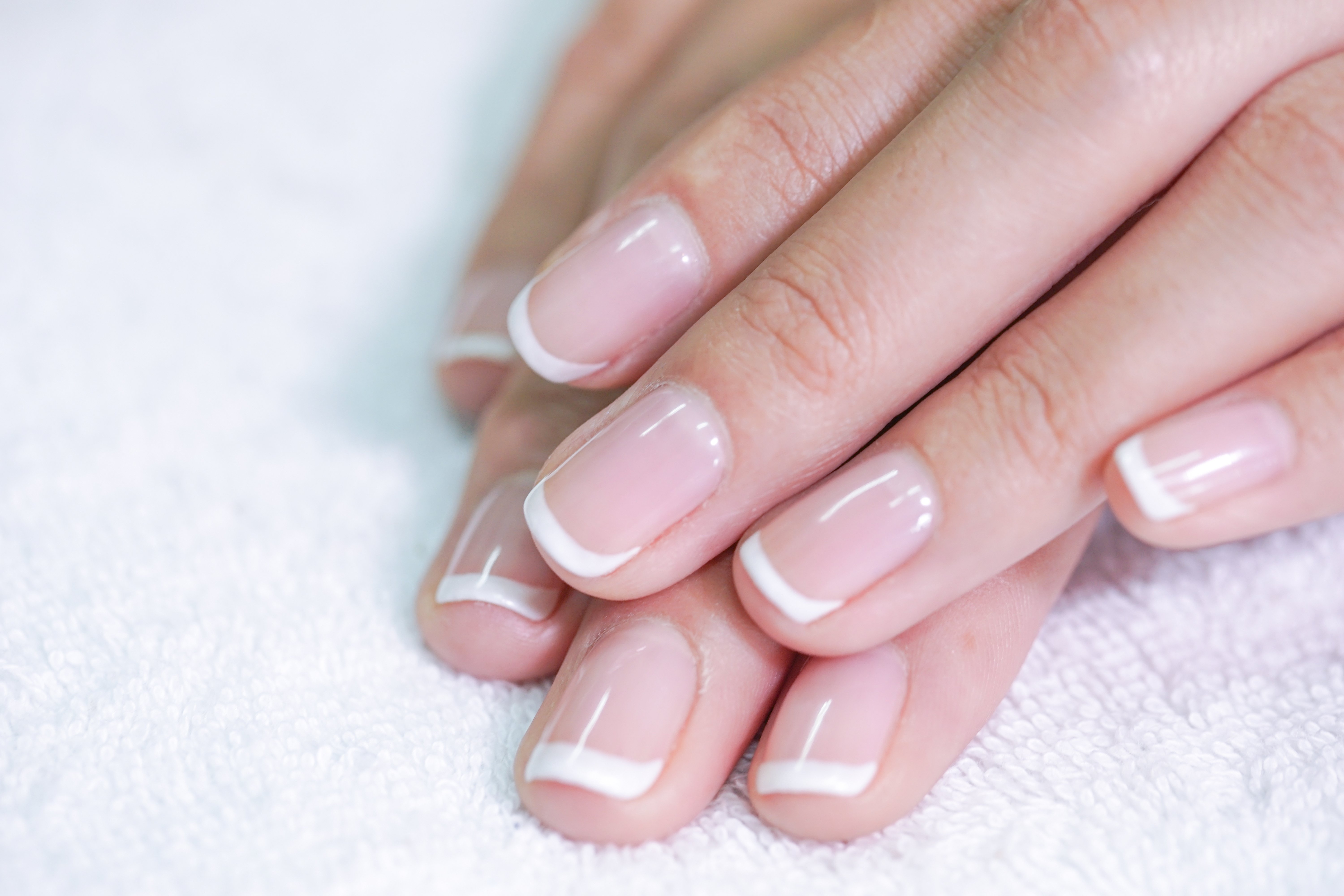 Classic French manicure nails | Source: Getty Images
The French manicure is one of the most classic manicures you can do at home. It is a manicure that only takes a little bit of time if you are not using add-on nails.
Using a white polish, draw around the tips of your nude-painted nail and use a brush dipped in acetone to get the perfect curve and wipe off the excesses. Remember to finish with a top coat, and that's all you need.