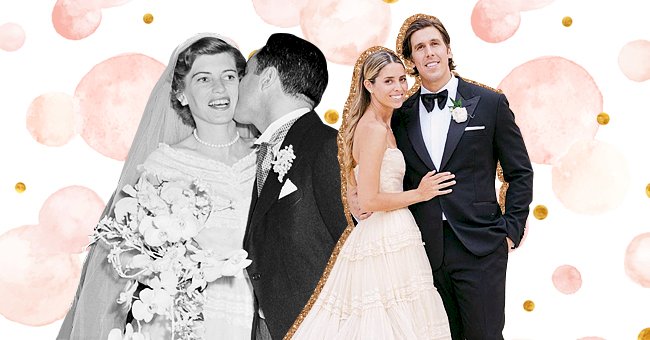 Eunice Kennedy Shriver Wears Grandmother's Dior Wedding Dress On Her Big Day
Eunice Kennedy Shriver Wore Her Grandmother's Dior Wedding Dress to Get Married in Miami, and the restoration is absolutely beautiful.
Eunice Kennedy Shriver looked just as radiant as her namesake grandmother when she wore the gown on her wedding day in 1953 married.
The couple is happy with how their special day turned out. Despite not having the wedding ceremony, they had envisioned after they got engaged in September 2019 (thanks again, 2020).
The Couple
Eunice Kennedy Shriver and CEO president of a luxury car dealership, Michael "Mikey" Serafin Garcia, get hitched at the St. Patrick's Church in Miami, Florida. The twenty-six-year-old bride wore the same dress that her grandmother wore sixty-seven years ago.
"The dress has aged into a French vanilla ivory, and there are a few holes in it, but I didn't care."

Eunice told Vogue.
Restoring The Dress
The years had done some work to the dress; the top and the veil were missing. The dress essentially required a reasonable amount of restoration to get it ready for Eunice and Mikkey's ceremony.
Kennedy Shriver sported a new bodice and veil. Her seamstress added volume to the underskirt of the dress. The twenty-six-year-old bride and her grandmother were a similar size on their wedding days, so the waist and length didn't require many alterations. The result was much to Eunice's liking.
The Ceremony
The couple had in mind a two-hundred guest affair for the initial ceremony. However, two months prior, the car dealership President and manager of art and experimental brand development at Best Buddies International, decided to significantly downscale to a wedding party of only thirty-two guests. This was a result of the growing concerns of the coronavirus pandemic.
Eunice walked down the aisle at St. Patrick's Catholic Church, escorted by her father, wearing her grandmother's Dior wedding dress. Mikkey adds, "it was the best day of my life."