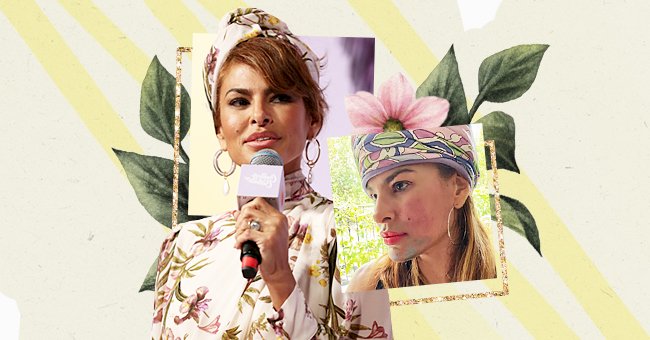 Eva Mendes Is Mom Goals After Allowing Daughters To Give Her Makeover
When you are stuck in quarantine with two kids, a lot of things can happen. This is Eva Mendes's story, who has constantly let her daughters, whom she shares with Ryan Gosling, give her a makeover.
With two kids under the age of seven, a mother will do just about anything to keep them occupied at home. Her daughters, Esmeralda Amada Gosling, 6, and Amanda Lee Gosling, 4, give her the wackiest makeover and the internet loves it.
Eva Mendes took to Instagram to debut her new look. The actress hilariously conceded. Eva's face looks like a human coloring book with all kinds of scribbles and colors in the photo.
The Makeover
For the look, her daughters mismatched scribbles on her forehead and cheeks. They gave her bright blue eyeshadow and added a smudge of purple lipstick for the finishing touches.
"My kids did this to me. Again. From head to toe. I guess when in doubt, be their canvas." Eva Mendes
To complete her avant-garde look, she wore a turban, striped top, and gold hoops. The 46-year-old is not afraid to display their handiwork once again. She shares the two children with her husband, Ryan Gosling.
Eva Mendes And Ryan Gosling
The Cuban-born actress - consecrated by successful films such as "Once Upon a Time in Mexico," "Hitch," and by sensual advertising campaigns (in 2008, she starred naked in a commercial for Calvin Klein) - never thought she would leave acting to devote herself to her family.
A desire, almost an urgency, born from the meeting with Ryan Gosling in 2011. The love, at first sight, struck on the set of the film "Come un tuono" (The Place Beyond the Pines), in which the two happened to play a couple with a little girl, matured in a strong ten-year bond, deliberately lived away from the spotlight.
Eva And Her Daughters
Even though Eva regularly talks about her children on social media, she has set boundaries with how much she'll share. In April, a fan asked why she doesn't post any photos of her kids, and Eva explained that there are limitations.
Eva says she won't post pictures of their daily life and does not have the necessary consent from her children. She promises not to post their photos until they're old enough to give her consent.