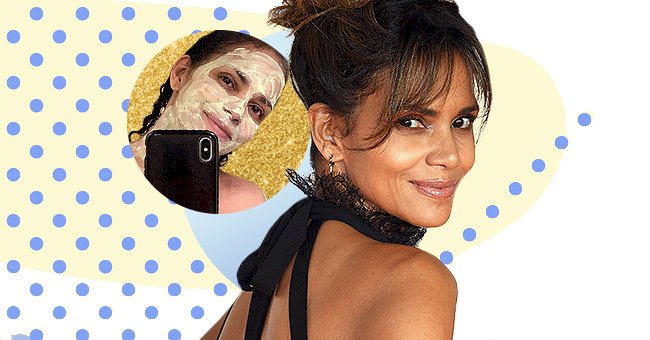 Exploring Halle Berry's Skincare Routine and Her Favorite Products
Instagram post and interview at a time, y'all!
Halle Berry, the first black woman to be awarded the Academy Award for best actress, has inspired us in various aspects. Hair? She did that. Her pixie cut has been and will always give us life. Style? Who's done the exposed thong or brown lipstick like Berry?
Over the years, Berry has spoken and posted and dropped pearls of beauty wisdom that contribute to overall radiant skin and banging bod. Sit back, relax, and explore some of the gems that Berry has been dropping for us.
Exercise
If you've ever scrolled through Halle Berry's feed on Instagram, this first 'secret' may be no secret at all. If anything, it's glaringly apparent that Berry loves (we cannot be stress this enough) exercising. In addition to her built physique, one can only imagine how contributing to her ageless skin.
The actress uses the hashtag #FitnessFriday to share workouts alongside her trainer Peter Lee Thomas. And Berry the fitness Bunny does it all, from skipping to yoga and Muay Thai training.
Simple Skincare Routine
In an interview, she said that her day-to-day routine of only four products, cleanser, toner, moisturizer, and eye cream. And that's that.
She mentions Olga Lorencin Purifying Cleansing Gel ($42), Olga Lorencin Rebalancing Toner ($42), Olga Lorencin Weightless Moisturizer ($75), and RoC Retinol Correxion Eye Cream ($18) as the components of her daily regimen.
Connecting To Nature
Connecting with nature is truly the good stuff that lights up the soul. If her Instagram feed is anything to go by, the actress frequently takes time outdoors, with all those toes in the sand and green landscapes.
"From age 16 on, I've worn sunscreen. I use SPF 30 because I don't think the higher SPFs are necessarily more effective.

Berry shared in an interview.
Meditation
"My meditative practice is my way to remain strong and centered for myself as well as my children when things are overwhelming. I hope that everyone will take a moment today to breathe—you deserve it."
She's Has a Long Relationship With an Esthetician
Berry credits the famous esthetician Olga Lorencin for her radiant skin and says that this may be the most important contributing factor.
"I always say that your serum and moisturizer are laughing at you if you don't have [your] skin exfoliated first,"

In a conversation on Instagram, the Esthetician even dropped a golden nugget of wisdom and shared the importance of exfoliating.
Healthy Eating
For Berry, healthy eating goes beyond maintaining her physique. She has spoken openly about the diabetes diagnosis and how the keto diet has helped her manage the condition.
Berry regularly shares a recipe or two 'pon the gram and has expressed her love for skin-boosting eats like bone broth, filled with protein and collagen.
Berry Is A Tea Drinker
Though there's nothing wrong with the occasional sip, expert dermatologists have said that alcohol is one of the biggest dry skin instigators. Additionally, the presence of alcohol in the body can make it harder for your body to rehydrate, leading to wrinkles and fine lines.
From the looks of her personal gram, Berry's beverage of choice is a cup of hot tea. There may not be a direct correlation between tea and good skin, though tea is beneficial for many other holistic reasons.
Cool Skin Gadget Thingies
From exfoliating spin brushes to jade rollers to microcurrent devices, skin gadgets are coming in hard and fast, and all the skin enthusiasts are riding the wave.
Berry shared via Instagram stories earlier this year that a nifty LED light mask by Dr. Dennis Gross is her "personal favorite."
Berry Love A Face Mask
When you're Halle Berry, you certainly get a luxury facial on occasion, but the ageless beaut also vouches for a homemade mask.
She took to her wellness platform Re-Spin to share a recipe that she uses to make her mask. The ingredients included brewed green tea, turmeric powder, lemon juice, and plain yogurt.
Berry Loves A Bath
This year especially, #SelfcareSundays have been a regular ritual for many people. Whatever your self-care ritual may look like, many consider the impact of stress and doing little things to feel relaxed.
Among other things, Berry's self-care routine includes a good soak in a bathtub. She shared some of her favorite bathing essentials, including bath salts by Kismet and a body wash by Aesop on Instagram.